Latest posts by Madeline Hogan
(see all)
3D printing has been changing the manufacturing industry since its advent in the 1980s. Thanks to its additive nature, 3D printing enables faster prototyping, quicker time to market, and significantly less waste than traditional subtractive manufacturing methods.
With the wide variety of great 3D printers for manufacturing on the market, it can be difficult to determine which 3D printer is best suited for an organization's needs.
This article will explore some of the best 3D printers for manufacturing applications, including industrial, commercial, and professional 3D printers.
Best 3D Printers for Manufacturing
Here's a review of some of the top 3D printers for manufacturing.
1. Nexa3D XiP
Nexa3D makes ultrafast 3D printers for manufacturers, designers, and engineers who need to develop and create the products of tomorrow. Nexa3D XiP is their professional desktop 3D printer that offers industrial-quality 3D printing at an affordable price, with printing packages starting at $6295.
The XiP combines a compact footprint with a large build volume that quickly delivers high-quality prototypes at your desktop. It's also patented under Nexa3D's Lubricant Sublayer Photo-curing (LSPc) technology which has a self-lubricated membrane. The self-lubricated membrane eliminates the forces between the parts being printed–enabling fast print speed without sacrificing the print quality or surface finish.
Engineers, businesses, product designers, and professionals trust the XiP printer for their manufacturing needs. For example, Liquid Sound Technologies–a business that develops sound-enhancing accessories for acoustic instruments–utilized the XiP for its patented product, the Droplet Sound System. The startup was able to print a batch of 60 to 70 pieces of The Droplet Sound System in less than 30 minutes. This partnership helped Liquid Sound Tech cut production costs by as much as 90%.
Pros:
Open material platform (ability to use with third-party resins).
Allows users to print at speeds of up to 180 mm per hour.
Large build volume of 4.8L.
Produced from aluminum materials ( making it recyclable).
Modular design.
Affordable price
Cons:
The XiP is aimed at professional users, not 3D printing hobbyists since it requires a certain level of technical training.
Best for: Prototypes and production-grade applications for engineering, dental, and other industries.
The Nexa3D XiP printer allows parts to print up to 10 times faster than other leading 3D printers on the market.
If you are looking for quick, precise, and reliable manufacturing, the XiP 3D printer is the right choice.
2. Nexa3D NXE 400Pro
Nexa3D NXE 400Pro is an industrial-grade 3D printer offering high throughput,  low operational costs, and incredible precision. The NXE 400Pro photopolymer 3D printer comes with an exceptional 17L build volume and ultrafast speeds without compromising accuracy or repeatability. It uses Nexa3D's patented Lubricant Sublayer Photo-curing (LSPc®) technology that delivers accuracy with a superior surface finish.
The NXE 400Pro industrial resin 3D printers accommodate a wide range of materials needs, including polypropylene, acrylonitrile butadiene styrene,  and other engineering-grade functional materials.
Many reputable manufacturers use Nexa3D NXE 400Pro for their production needs. Murtfeldt Additive Solution GmBH, a full-service production company, uses NXE 400Pro to produce specific, high-quality electrical connectors. These high-precision products require an excellent surface finish to be effective, and the NXE 400Pro was the only 3D printer capable of the job.
Pros: 
Compatible with a wide range of materials.
Best in its class for print speeds (6.5x faster than other SLA and DLP technology).
LSPc light engine delivers uniform, high power, and distortion-free image to ensure part-to-part accuracy and uniformity.
Unmatched 17-liter build volume (274 x 155 x 400 mm).
A self-lubricated membrane prevents delamination forces and enables fast print speeds.
Cons:
May not be suitable for small or desktop 3D printing needs.
Get a sample part from the NXE 400Pro
3. XiP Pro

Nexa3D XiP Pro is an industrial resin 3D printer that delivers the highest production throughput at the lowest cost of operation. XiP Pro offers the largest 19.5L build volume and fastest print speed in its class–and its unrivaled productivity allows you to produce functional prototypes and final-use parts at previously unattainable production economics.
Various industries use XiP Pro printers for their manufacturing needs. According to Glen Mason, Manager of Advanced Innovation/Industrialization at DeMarini (a division of Wilson Sporting Goods), "XiP Pro gives us about 10x the throughput of what we had before. Nexa3D has done a really great job taking the costs out of 3D printing while increasing the capacity. Their printers are getting bigger, faster, and more affordable at the same time. It's a total win for the users."
Pros:
Large industrial capacity and compact footprint
Intuitive NexaX Software & Smart Resin Delivery System
Environmental Monitoring System
19.5L build volume & 10″ High-Resolution LCD Touchscreen
LCD-based VAT photopolymerization process uses patented Lubricant Sublayer Photocuring (LSPc) technology
Self-lubricating  membrane enables lighting-fast print speed and unprecedented production value without sacrificing print quality or surface finish
7K resolution LCD screen with 46 µm pixel size and 23 µm sub-pixel resolution
Open material platform (ability to use with third-party resins)
Cons:
Not for hobbyist 3D printing
Best for: Prototypes and production applications for engineering, dental, and other industries. .
4. Nexa3D QLS820
The Nexa3D QLS820 3D printer has the highest part throughput in its class and a quad laser system that offers unprecedented production capabilities. Designed with automation and scalability in mind, it's about 60% faster than the existing industry standard–with double the average packing density.
This laser sintering 3D printer offers a build volume of 350 x 350 x 400 mm and a print speed of up to 8,000 cm per hour, making it suitable for production runs and high throughput needs. It also has a wide-use temperature range and an open-source platform that accommodates many materials, including PA12, PA11, Polypropylene, aluminum, glass, and fiber-filled options.
Cutting across many industrial usages, reputable manufacturers trust Nexa3D QLS820 for their production needs. The drone manufacturing company, SmartDrone, used the QLS820 to scale up its production throughput. SmartDrone gained a 60% faster build speed, 2x the packing density, larger build volume, hot-swappable build units, and more.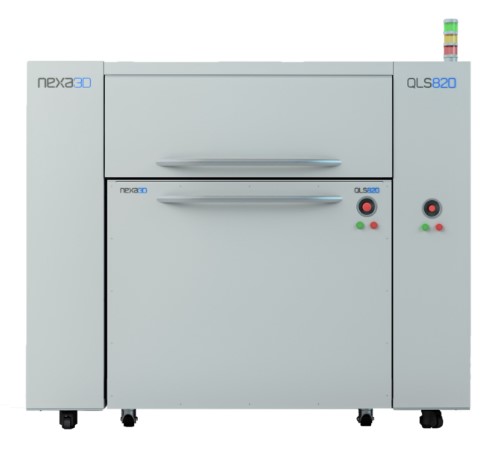 Pros:
Incredible speed, end-to-end traceability, centralized printer management, and real-time data monitoring.
Modular Material Processing Station (MMPS) enables safe, powderless, and efficient handling of materials.
Nexa3D QLS 820 software offers fleet management, print preparation, and real-time printer performance.
Powered by quantum laser sintering which delivers high-throughput, premium production capabilities at 8L per hour at 20% packing density.
Cons:
Best for very large print volumes, so it may not be a great fit for smaller budgets.
Best for: High volume production manufacturing in a variety of materials. Injection mold tolerances for full production capabilities, including high temp thermoplastics like PBT and PA6 materials.
5. 3D Systems ProX SLS 6100
ProX SLS 6100 is an industrial nylon 3D printer with laser sintering technology that offers a build volume of 381 x 330 x 457 mm.
The ProX SLS 6100 is designed for large-scale, production-level 3D printing and comes with a Material Quality Control (MQC) system that delivers automated mixing, recycling, and manual-free material transportation to the printer.
Pros:
Produced by one of the most established 3D printing companies in the world.
Large build volume.
Cons:
It only accommodates nylon materials.
Relatively expensive compared to other 3D printing technology.
Best for: Nylon and thermoplastic 3D printing applications.
6. Stratasys F370
Stratasys F370 is a professional Fused Deposition Modeling (FDM) 3D printer that provides production-grade parts. It has a build envelope of 355 x 254 x 355 mm and can use a wide range of materials, including ABS, ASA, PC-ABS, and PC.
The F370 is also equipped with toolless hot swappable print heads that allow users to swap out a nozzle in minutes while keeping the material settings intact. The 3D printer has a weight size of 1,626 x 864 x 711 mm (64 x 34 x 28 in.) and 227 kg.
Pros:
Quiet 3D printing process.
Open material platform.
Cons:
Best for: Small batch production parts, prototypes, jigs, and fixtures.
7. Markforged X7
Markforged X7 is designed to produce end-use parts with complex geometries at an industrial scale. It uses FDM 3D printing technology supported by a Continuous Fiber Fabrication process in order to build parts with high strength and stiffness.
The X7 also offers dual drive extruders that reduce print time and accommodate various materials such as nylon, carbon fiber, Kevlar, fiberglass, and composite. The 3D printer has a physical dimension of 584 mm x 483 mm x 914 mm, weighs 48 kg, and has a build volume of 330 x 270 x 200 mm.
Pros:
Large build volume capabilities.
 Inbuilt 3D printing software with various adjustability options.
Cons:
It is quite expensive compared to other 3D printers in its class.
FDM technology can be slow and has other inherent disadvantages.
Best for: Large-scale production runs with its automated build plate leveling system.
8. Stratasys F900
Stratasys F900 is a large-scale industrial FDM 3D printer with a 914 x 610 x 914 mm build volume. It has an open material platform and offers dual nozzle extrusion with various materials such as ASA, ABS, PEEK, Nylon 12 CF, and polyphenylsulfone (PPSU).
The 3D printer also features automated part removal, enabling users to remove parts from the build platform. Additionally, it has a physical size of 2,772 x 1,683 x 2,027 mm (109.1 x 66.3 x 78.1 in.) and weighs 2,869 kg.
Pros: 
Large build volumes.
Open material platform.
Cons:
It is expensive, which can make it unsuitable for small businesses.
Extremely large and heavy.
Best for: Large-scale batch production, prototyping, and tooling applications.
9. HP Jet Fusion 5200
HP Jet Fusion 5200 is a commercial 3D printer designed specifically for creating parts with complex geometries with an accuracy level of up to +/- 0.02 mm. It uses Multi Jet Fusion technology and prints composite materials such as HP PA12, thermoplastics, and blends of advanced polymers.
The Jet Fusion 5200 has a build volume of 380 x 284 x 380 mm and a natural cooling unit.
Pros:
High throughput for large quantities of parts.
Removable build unit.
Cons:
Costly consumables add to operational costs.
Throughput limitations are given lower packing density.
Best for: mid-sized volume production environments and industrial-level OEE yield.
10. CreatBot PEEK-300
CreatBot PEEK-300 has a build volume of 300 x 300 x 400 mm and is suitable for printing large parts. The 3D printer offers dual drive extruders, an enclosed build chamber, filament run-out detection, and automatic alignment and leveling features.
Pros:
It can print in high-performance materials such as PEEK and PEKK.
The dual-drive extruder system ensures accurate printing.
Cons:
The CreatBot PEEK-300 has a high price point.
It has limited material applications.
Best for: Manufacturing parts with high-performance requirements.
11. Roboze Argo 500
Roboze Argo 500 is an industrial FDM 3D printer for manufacturing large parts and has a build volume of 1935 x 1436 x 2375 mm and is capable of printing in various materials such as PEEK, PEI, ULTEM, Carbon Fiber PA6/PA12, and other composite materials.
The Argo 500 is one of the largest 3D printers on the market, with a system weight of 1700 kg/3748 lb.
Pros:
Roboze Argo 500 has a large build volume.
It offers an open materials platform with flexible printing options.
Cons:
FDM technology can be a slower additive manufacturing process.
Its large size makes it unsuitable for mid-sized and smaller builders.
Best for: Large-scale production runs and functional testing of components with complex geometries.
More About 3D Printers for Manufacturing
Whether you're looking to print parts with medical-grade materials, high-performance polymers, or large production runs, there are 3D printers on the market that can meet your needs.
Industrial 3D Printer Pricing
Industrial 3D printer pricing can range between $20,000 to upwards of $400,000. However, these prices don't always include additional accessories such as a post-processing station, software, or filament.
Large Industrial 3D Printers for Manufacturing
Large industrial 3D printers are often ideal for large-scale production runs or parts with complex geometries. They typically have a build volume of 1000 mm x 1000 mm or larger and can print in materials such as PEEK, PEKK, and polycarbonate. Depending on the manufacturer, some 3D printers may offer dual-extrusion, automatic calibration, and advanced post-processing options.
The QLS 820 and NXE 400Pro from Nexa3D are two industrial 3D printers ideal for large-scale manufacturing. The NXE 400Pro is an mSLA 3D printer that delivers accuracy and tolerances with a superior surface finish and QLS 820 uses laser sintering technology to produce up to four times the throughput of traditional laser sintering 3D printers and other polymer powder bed technologies.
These large 3D printers offer professionals the best 3D printing experience with top-notch print speed and quality.
Learn more about these industrial 3D printers. 
Best Metal 3D Printers for Manufacturing
Metal 3D printers fuse metal powder or metal filament to create parts. They are usually more expensive than other types of 3D printers but can print strong, durable materials. Some of the best metal 3D printers on the market include the Markforged MetalX, Desktop Metal Studio System 2, and Trumpf Truprint 1000.
Use the Best 3D Printers for Manufacturing
Choosing the best 3D printer for manufacturing should take time. It's important to consider build volume, material type, post-processing options, and your budget.
While there's an array of 3D printers to choose from, we're confident that the ultrafast 3D printers from Nexa3D can change the future of your manufacturing business. Go from days and weeks of development and prototyping to hours and minutes–without sacrificing quality and while reducing the cost of ownership.
Ready to experience it yourself?