Latest posts by Nina Swienton
(see all)
XiP Pro delivers highest daily throughput at the lowest operational costs for the production of industrial and medical device components, enabling onshoring and reshoring efforts with additive manufacturing
Unlocks new production possibilities at speeds exponentially faster than comparables; one XiP Pro can produce the same output as four of the next fastest industrial 3D printer on the market
Offers largest build volume in its class, delivering unrivaled productivity and print success for industrial users looking to scale additive production
Delivers higher accuracy, part precision, and superb surface quality enabled by Nexa3D's patented Lubricant Sublayer Photo-curing® (LSPc) 3D printing process
Comes with access to over 30 validated industrial resins on Nexa3D's open material platform with more industrial and dental materials qualified and added monthly
Equipped with new NexaX OS—an intelligent, scalable platform for workflow automation, speed, efficiency & productivity featuring faster print prep engine and remote monitoring
Nexa3D, the ultrafast polymer 3D printing leader, announced today at Rapid + TCT 2023 the immediate availability of its XiP Pro ultrafast industrial 3D printer, providing the highest daily production throughput and lowest total cost of ownership in its class. Featuring print speeds exponentially faster than the traditional SLA and DLP-based technologies, more powerful print engine, and a 19.5-liter build volume, the XiP Pro delivers previously unattainable production capabilities for industrial users.
See the XiP Pro in action at Rapid + TCT, Nexa3D booth 2712, from Tuesday, May 2 to Thursday, May 3, 2023.
For companies looking to leverage additive manufacturing to de-risk and streamline supply chains, scaling production economically has been a challenge due to the inherent tradeoffs between print speed and production quality. Add to that the capital intensity associated with establishing an additive factory and the on-going operational costs, the return on investment becomes elusive. Thankfully, with XiP Pro there is no need to compromise.
"We packaged our most advanced technologies into the XiP Pro, and let me tell you, it exceeds all expectations for what's possible in terms of productivity and total cost of ownership," said Nexa3D Co-Founder, Chairman and CEO Avi Reichental. "XiP Pro is a paradigm shift for industrial users looking to scale additive production. The printer's compact but rugged aluminum enclosure is built for a tough production floor setting and performance longevity.
"I am proud and humbled by my fellow Nexers and the innovation powerhouse we are building, anchored in over 180 patents, a comprehensive polymer product portfolio spanning a broad range of resin (LSPc) systems, and rapidly expanding powder bed fusion (QLS) solutions," added Reichental.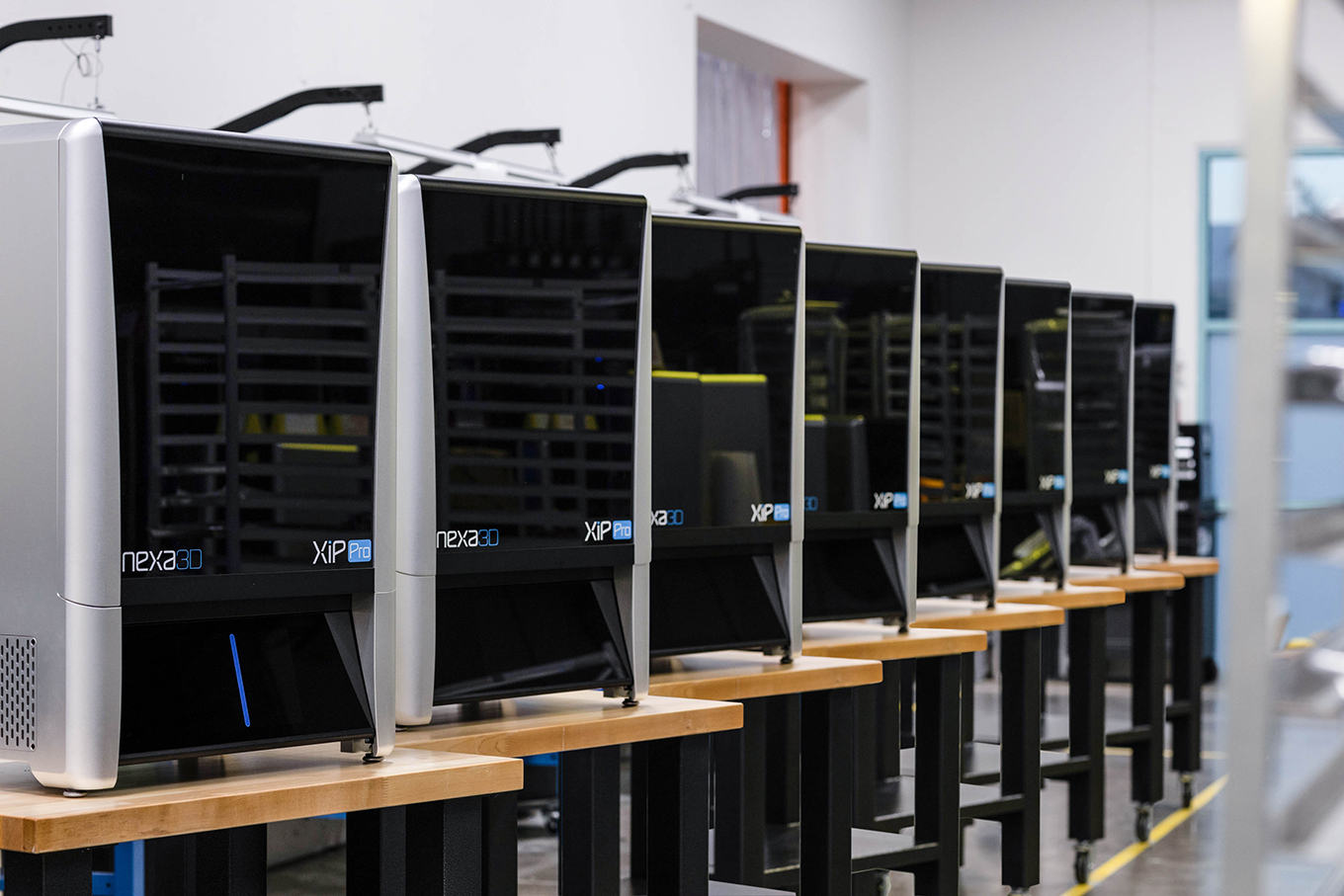 Largest Build Volume in Its Class
With a 19.5-liter build volume, a single XiP Pro delivers the daily throughput of at least four competitive resin-based printers, allowing users to dramatically change the economics of 3D printing production, on top of reducing capital investment in equipment. With its unique stacking ability, users can optimize each build by stacking smaller parts on top of one another to take full advantage of XiP Pro's entire z-stage.
Ultrafast Print Speed without Compromise
Tradeoffs have always been a key component of 3D printing – for example, compromises in quality need to be made for fast production. With an industry-leading print speed of up to 24 vertical centimeters per hour, XiP Pro can produce its entire build volume in under two hours without sacrificing print quality or surface finish. Its patented LCD-based print technology uses a self-lubricating membrane that reduces peel forces and enables lightning-fast print speed. Its cutting edge LED light engine further enables high resolution and high-quality surface finish on 3D printed parts.
Unrivaled Accuracy and Surface Quality
In addition to offering outstanding speed and throughput capabilities, the XiP Pro boasts a cutting-edge 7K resolution LCD screen with 46µm pixel size ensuring that every detail of a design is captured with unparalleled precision, and resulting in finished products that are both stunning and accurate. The XiP Pro's advanced sensor package, adaptive layer-by-layer printing technology, and closed-loop z-stage with auto-homing capabilities deliver enhanced printability and improved first-time build success rate.
Broad Material Range and Open Platform
The XiP Pro is an open platform printer that offers a broad range of high-performance materials, ranging from strong and durable resins, such as xABS, xPP, and xCE, to elastomeric materials, such as xFLEX475 and xFLEX402, providing virtual limitless material options. It is the most versatile industrial 3D printer on the market – whether prototyping in clear or modeling resins or producing end-use components and 3D printed molds using heat-resistant resins, like xPEEK, xCERAMIC or xMOLD.
"Nexa3D has done a great job bringing down the costs of 3D printing while increasing production capacity," said Glen Mason, Director, Advanced Manufacturing at Wilson Sporting Goods / DeMarini Sports, a member of select Nexa3D users with early access to the XiP Pro. "Their printers are getting bigger, faster and more affordable which is a total win for users. I'm super excited about the XiP Pro as it is the tool I need to get to a larger scale, giving us about a 10x throughput compared to where we're at today. With a larger build platform, we're able to print larger parts, and stack smaller parts for maximum throughput. It's positively taking the technology in every direction, decreasing cost per part while increasing resolution, speed, and build capacity."
XiP Pro comes with a new and enhanced NexaX OS, an intelligent, scalable platform for workflow automation, speed, efficiency and productivity, featuring faster print prep engine and remote monitoring. The new NexaX OS suite enables faster and more automated workflow, fleet management and remote monitoring. It also allows for faster generation of support structures in multiple shapes, faster slicing, border compensation on base layers, and print file size reduction, all of which further optimize and accelerate print prep and build time.
XiP Pro is immediately available for sale and can be ordered via an authorized Nexa3D reseller. For a list of resellers, please see reseller locator.