JawsTec Doubles its SLS Production Output by Installing Four QLS 230 SLS Printers
The 3D printing service provider eliminates over 2 tons SLS and MJF powder waste per year

JawsTec is a manufacturing service provider specializing in 3D printing, CNC machining, and metal fabrication services. The company offers innovators, engineers, and entrepreneurs access to rapid prototyping and also supplies large businesses with parts through high-volume production. JawsTec produces parts for some of the most prominent brands on the planet, including Tesla, Apple, BMW, Ford, Delta, SpaceX and more.
Challenge
Over 2 tons of powder wasted each year
Like many Selective Laser Sintering (SLS) and Multi Jet Fusion (MJF) users, JawsTec had to forgo usage of 30% of their thermoplastic powder, while also bearing the cost of its storage and disposal in accordance with regulations. This waste of end-of-life powder not only raised the company's operating overhead and impacted profit, but also represented a significant environmental issue for a company committed to sustainable manufacturing. "Our older systems were running a 50% new powder refresh rate, which is not sustainable," noted JawsTec CEO Oscar Klassen.
JawsTec was looking to raise their additive manufacturing output, streamline costs and enhance company sustainability by significantly lowering the waste ratio of sintering powders used.
"The QLS 230 printers give us the ability to use end-of-life powder from other SLS and MJF machines to produce high-quality parts while eliminating powder waste. On top of the operational sustainability, the smaller build volume of the QLS 230 allows for a much shorter build cycle and cooling cycle with zero negative effect on part accuracy or surface quality."
Oscar Klassen, Co-Founder & CEO, JawsTec
Customer
JawsTec
Industry
Manufacturing Service Provider
Products
Application
Contract Manufacturing
Advantages
'Zero-waste' SLS 3D printing solution with industry leading powder recyclability rates
Fast cycle sintering with a 2hr cooling window enabling high throughput and quick-turn production
Robust processing window and inert environment unlocking wide range of material compatibility
Lowest total cost of operation for professional SLS production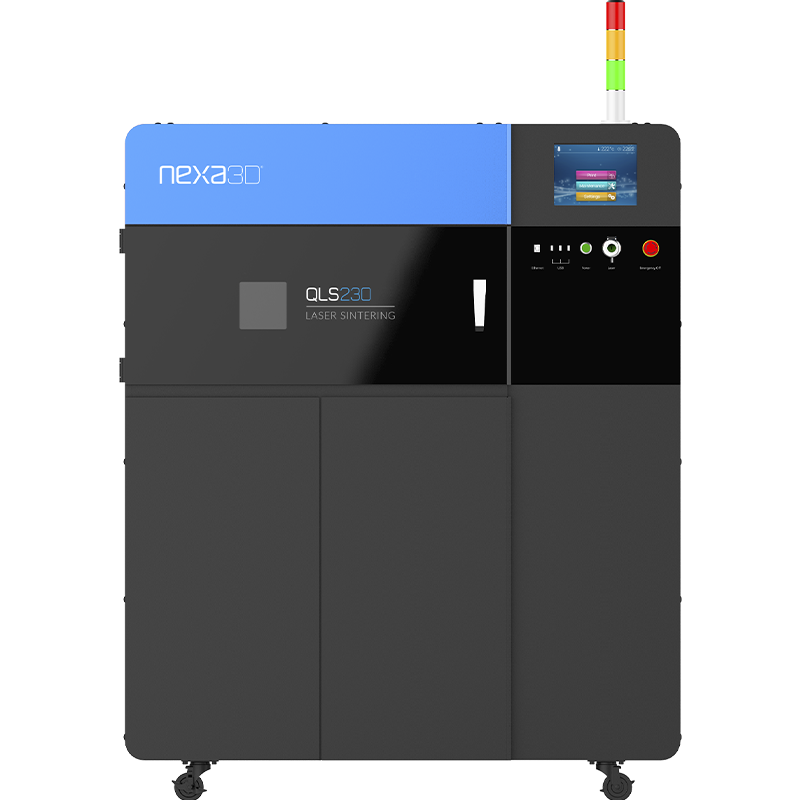 Solution
Fast cycle sintering using recycled powder
JawsTec chose the QLS laser sintering technology by Nexa3D to eliminate powder waste altogether while dramatically increasing machine throughput and uptime.
Nexa3D's application engineering team helped JawsTec quickly deploy four QLS 230 along with a QLS 820 machine, completing setup and training in less than a month. Once operational and integrated into the production process, JawsTec was able to immediately begin using a combination of new sintering powder and recycled powder from legacy SLS and MJF platforms to produce high-quality parts for their top-tier manufacturing customers. They are now able to utilize 100% of their powders due to the high packing density rate of the QLS series printers which further optimizes the recycled powder usage rates.
Benefit
Saved over 2 tons of recycled powder while doubling production output
With Nexa3D, JawsTec completely eliminated sintering powder waste. "We're running a 75% / 25% mixture of unsintered/new powder on the QLS 230," said Oscar Klassen. "Owing to that machine's enhanced packing density, we're getting the flexibility to use 100% of powder across our operations."
Nexa3D enabled JawsTec to raise SLS manufacturing output by 50% due to the platform's shorter printing cycles. "We're turning out parts that take 24 hours on our legacy machines in just 10 hours with QLS, allowing us to effectively double our output," noted Klassen. What's more, Nexa3D's remote maintenance slashed JawsTec's downtime in the event of build fails – from days to just hours.