Massive 3D Printing Fleet Gets an Upgrade
Netherlands-based 3D Printing Service Bureau MTB3D Adds High-Speed XiP Resin 3D Printers to 100+ Printer Fleet

MTB3D is a large-scale 3D printing service provider based in the Netherlands, but maybe not the type of "large-scale" you're thinking of. Rather than investing in large, expensive industrial machinery, they're one of the growing number of service bureaus who lean heavily on desktop 3D printers – and for them, "heavily" might be an understatement. With a fleet of close to 150 desktop 3D printers, they are able to service a wide variety of customers with high throughput capabilities, whether printing replacement parts for fire trucks, tokens for festivals, or packaging prototypes for beauty brands.
Founded in 2013 by Ewoud van Munster, the company now boasts a robust team of experienced technicians and engineers capable of providing consulting services from design through to finished part. Arturo Galasagrera is one such technician who has over 7 years of 3D printing experience and now operates the full range of filament and resin 3D printers in MTB3D's facility.
Challenge
Upgrading a Fleet of SLA 3D Printers
While the majority of 3D printers at MTB3D are filament-based, they have also implemented a small and agile fleet of resin systems that they can use when quality needs to be on point. Their initial batch of resin machines were Formlabs Form 2 SLA 3D printers. More recently they added the updated Form 3, however, seeing no significant improvement decided to get rid of them and stick with the Form 2 for the sake of simplicity.
In late 2022, they began exploring the market for a suitable upgrade that would not only provide the highest quality parts, but also with a larger build volume and that would allow them to easily print with 3rd-party resins. "My boss Ewoud was looking for a 3D printer that we could use with third-party resins because our main filament supplier recently started supplying resin as well. We wanted something more than a small, cute little resin 3D printer that you see everywhere – we wanted a bit more size," says Arturo.
"It feels like cheating, it's that much faster than the Form 2,"
Arturo Gala Sagrera, 3D Print Specialist, MTB3D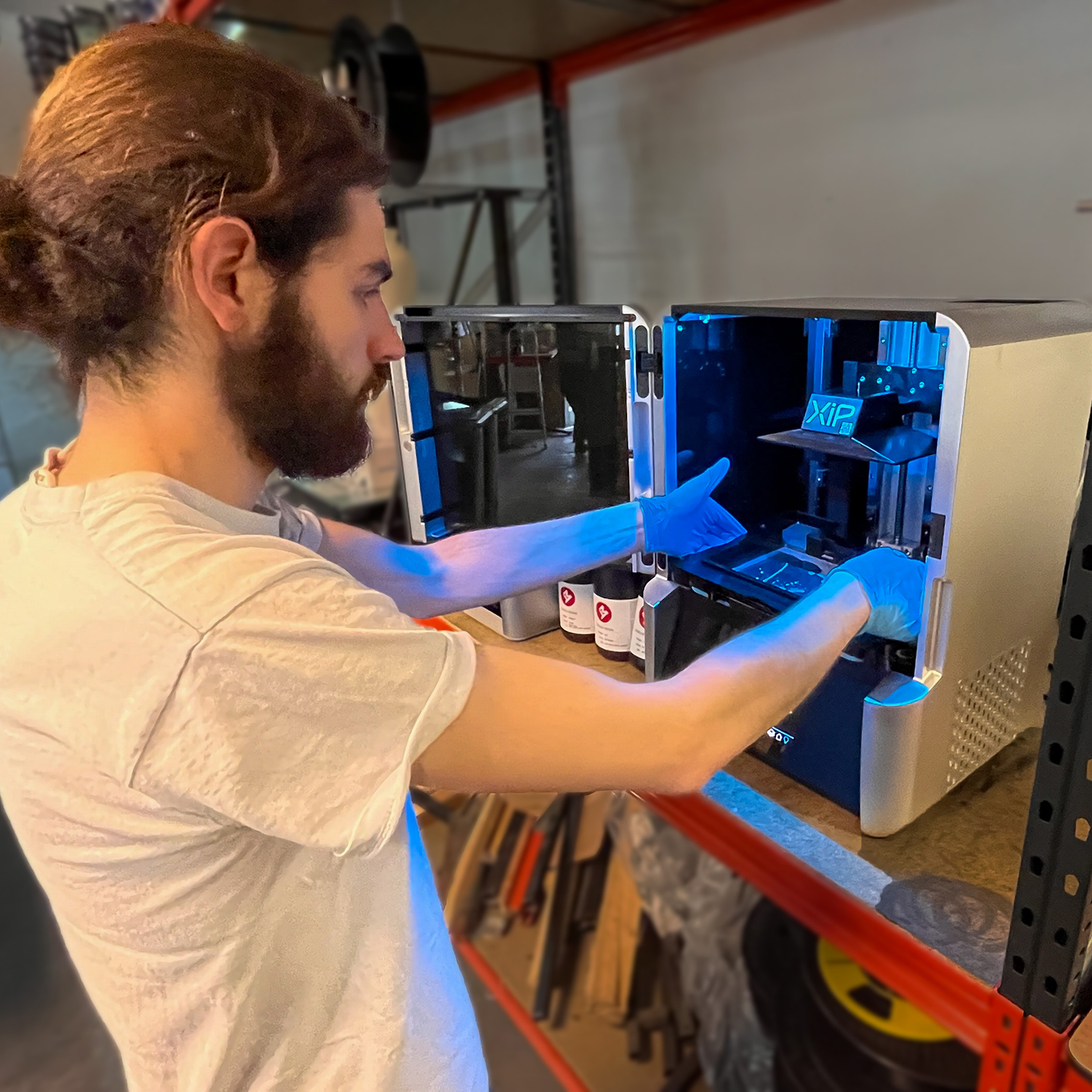 Customer
MTB3D
Industry
3D Printing Service Bureau
Products
Application
Contract Manufacturing
Advantages
Open platform makes it possible to work with existing material supplier
Larger size enables larger projects than existing SLA 3D printers
Print speed – throughput is essential
Dimensional accuracy far supersedes that of FDM fleet
Solution
An Open Materials Platform for Professionals
XiP was added to the MTB3D stable of 3D printers thanks to its combination of size (46% larger than the Form 2), and its ability to run 3rd-party materials (in addition to 25+ verified resins) which gives Arturo flexibility he requires with such a diverse customer base.
Once they set up XiP they realized that there was a benefit they hadn't previously considered – speed. "It feels like cheating, it's that much faster than the Form 2," Arturo says with a grin. He's not wrong, the LSPc® technology that XiP inherited from its industrial sibling NXE allows it to print on average 6x faster than SLA 3D printers and up to 40x faster than FDM.
Arturo also notes just how impressed he is with the printed dimensional accuracy he is seeing, "So a lot of time you have to design something with and print it on a Prusa, which always you have to consider a little tolerances, maybe it's not perfect. But when you have a printer that can print with this kind of dimensional accuracy, then prototyping something is super easy. You can design something, print it, and come back in a couple of hours and test it. So that's pretty cool, that's pretty good."
MTB3D is already finding a variety of internal and external projects perfect for the XiP – though many of them are proprietary and under NDA, "Unfortunately the a really nice big part that I wanted to show you has an NDA, but something we printed was these small figurines for a client's board game. It was two sets of 30 pieces and in a couple of hours they're already printed – all 60 objects. It's mind-blowing… It's just crazy."
New solutions like XiP allow MTB3D to produce pristine parts with unmatched throughput opening the door to new customer industries and applications and though they're just getting started with this new chapter one thing is clear, the future is very bright indeed.