Resin 3D Printer Comparison
LSPc vs. SLA
Are you thinking about getting a professional resin 3D printer that can print high resolution parts? When it comes to print quality, resin 3D printers reign supreme. But quality means nothing without speed and throughput. That's why we've put together a quick comparison of two of the most interesting professional resin 3D printers available today – the Nexa3D XiP and the Formlabs Form 3+.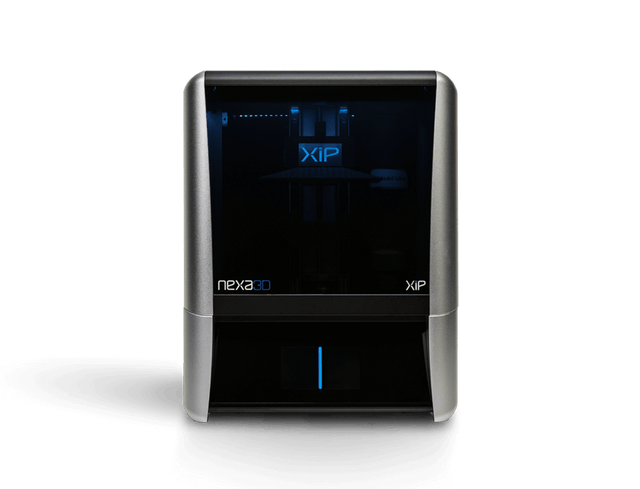 Nexa3D® XiP
At Nexa3D, we have taken our industrial resin 3D print engine (known as LSPc) and shrunk it into a desktop envelope—giving individual professionals and small businesses access to the ultrafast 3D printing technology.
Formlabs® Form 3+
Formlabs is one of the pioneers of desktop SLA 3D printing and its Form 3+ is its latest printer model.
Nexa3D LSPc

Lubricant Sublayer Photo-curing (LSPc) is a masked stereolithography (mSLA) process that is much faster than traditional stereolithography (SLA). It uses an LED array as the light source together with an LCD photomask, which serves to shape the layer image as it passes onto and through the self-lubricating membrane. This arrangement allows higher light levels which translates to faster build speeds with less image distortion – ultimately resulting in better quality prints.
Formlabs SLA

SLA 3D printing is the original form of resin-based 3D printing. A pin-point laser draws out every element of the print curing the resin as it draws. Formlabs uses a 250 mW laser which is more powerful than typical consumer grade SLA 3D printers but significantly slower than the LSPc process.
Print Time Comparison
V6 Engine Block Model
An example file of a V6 Engine Block model was sliced on the native software for each of the two leading professional desktop 3D printers – Nexa3D XiP and Formlabs Form 3+ using the fastest settings and materials for both without compromising print quality or reliability. XiP printed a single duct in just 87 minutes while Form 3+ took 483 minutes or 6x longer.
| | Nexa3D XiP | Formlabs Form 3+ |
| --- | --- | --- |
| Build Volume | 195 mm x 115 mm x 210 mm (4.8 L) | 145 mm x 145 mm x 185 mm (3.8 L) |
| Build Time* | 87 minutes | 483 minutes |
| Pixel / Laser Size | 52 microns | 85 microns |
| Build | Full Aluminum Enclosure with reinforced Z-axis and side open door | Aluminum base with acrylic dome hood, cantilever Z-axis, and vertical open door |
| Materials | Open with unlimited 3rd party resin options and 8 validated Nexa3D resins (and growing!) | Closed with 30 Formlabs resin options |
| Productivity | | |
| Total Cost of Ownership | | |
| Software | NexaX (Free) | Preform (Free) |
*Build time based on printing V6 Engine Block model sliced using highest speed settings and resins for both 3D printers.
**Full build volume does not increase print time for LSPc due to complete layer curing compared with SLA requirement of drawing an entire layer with a single laser dot.
Get the xRook
Request a free sample of the xRook, made by XiP.
Learn more about xRook by Nexa3D


Samples are delivered within 1-2 weeks. Available in the United States and Canada only.