NexaX 3D Printing Software
Intelligent and Automated Print Preparation and 3D Printer Management Software For Optimal Efficiency
NexaX software enables process stability and print consistency, making it easy to scale from prototyping to full scale production.
Raise the ante of the entire design-to-manufacturing 3D printing cycle. Through the interplay of hardware, software and chemistry, NexaX 3D printing software offers print preparation and 3D printer management software with API integration for other software to unlock new properties for printed parts while enabling process stability, production scaling, consistent product quality, higher yields and unmatched mechanical performance.
Automated 3D Print Preparation and Management
NexaX 3D Printing Software
NexaX for XiP
NexaX Basic
Free Software License
NexaX Pro for XiP
Annual Subscription
NexaX for NXE/D
Buy NexaX Pro
NXE, NXD, and XiP
Optimize Efficiency & Production with Automation
NexaX software preparation and 3D printer management software is fully compatible with Ximplify™, Nexa3D's automated 3D printing decision support portal, powered by CASTOR, which accelerates the ability of designers and manufacturers to adopt additive manufacturing at scale. Ximplify scans through material lists consisting of thousands of parts in minutes, selecting the ideal candidates for additive manufacturing.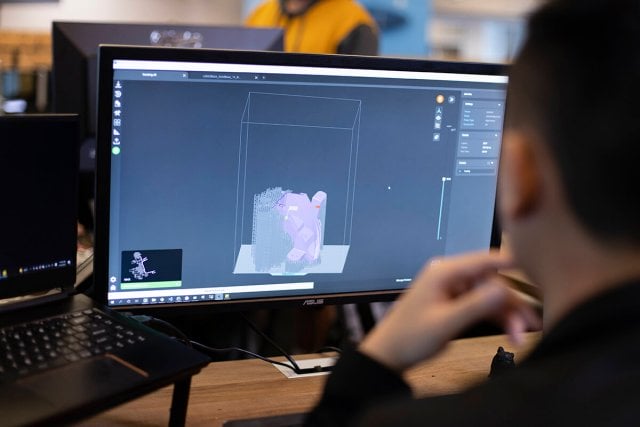 Lightning Fast Proprietary Algorithm
With lightning-fast proprietary slice algorithms and automatic support generation, NexaX 3D printer software combines process and geometry algorithms with end-to-end workflows to optimize parts production.
Seamless Integration
NexaX provides APIs that make the integration of a variety of software tools easy, including assembly parts consolidation, generative design for AM, lightweighting, automated print optimization, part costing estimator, ROI calculator and MES workflow.
NexaX 3D printers and software come loaded with significant productivity and performance features, including:
Automatic part collision and out-of-bounds detection
Accurate part print-time and resin consumption estimator
Remote management and live print view capability
Nexa3D printer fleet management and MES workflow tools
Unique hollowing and perforation tools
Lattice generation tools and mesh fixing
Quick and automated file preparation
Automatic part-by-part scaffold supports
Expert user support generation capability
Part rescale and duplication capability
What's New in Version 2.6
Basic & Pro
Auto orientation options, including minimum height and minimum support
Z-stacking added to array duplication
Enhanced user license management
Improved speed for support generation on large models
Online update of build parameters (.nxp)
Contact tip width support parameter (allows conical contacts)
Pro-only
Mesh repair and stl editing
Customized exposure parameters and open materials
B-compensation (edge offset) and xyz scaling on customized menu
Improved hollowing algorithm
Custom Print Profiles
Compare Software Versions
| | | | |
| --- | --- | --- | --- |
| License | Free | Annual, single activation | Perpetual, 3 activations |
| Version | 2.5.0 | 2.5.0 | 2.5.0 |
| Platforms | XiP | XiP | NXE, NXD, XiP |
| File Types | .obj and .stl | .obj and .stl | .obj and .stl |