Breaking Barriers in Additive Manufacturing
Industrial 3D printers delivering best-in-class speed and productivity
Estimate Material Costs
Industrial Resin 3D Printing powered by Lubricant Sublayer Photo-curing® (LSPc)
Self-Lubricating Everlast 2 Membrane Our fastest, clearest and longest lasting membrane 7K resolution with sub-pixel antialiasing for fine features and smooth surfaces
High power, collimated, 405nm LED light for edge-to-edge uniformity and accuracy across the build

Advanced thermal management for maximum curing reliability in as little as a second per layer
ACQUISITION ANNOUNCEMENT
Nexa3D to Acquire Essentium
The acquisition will add high-speed extrusion technology to Nexa3D product offering, broaden material development capabilities, and expand customer reach to military and defense applications.
High Throughput SLS 3D Printing powered by Quantum Laser Sintering (QLS) Unmatched throughput with 24 hour cycle time
Zero waste printing with recycled powders Open platform with over 16 validated polymer and metal materials

Outstanding part quality with strong mechanical properties and fine feature details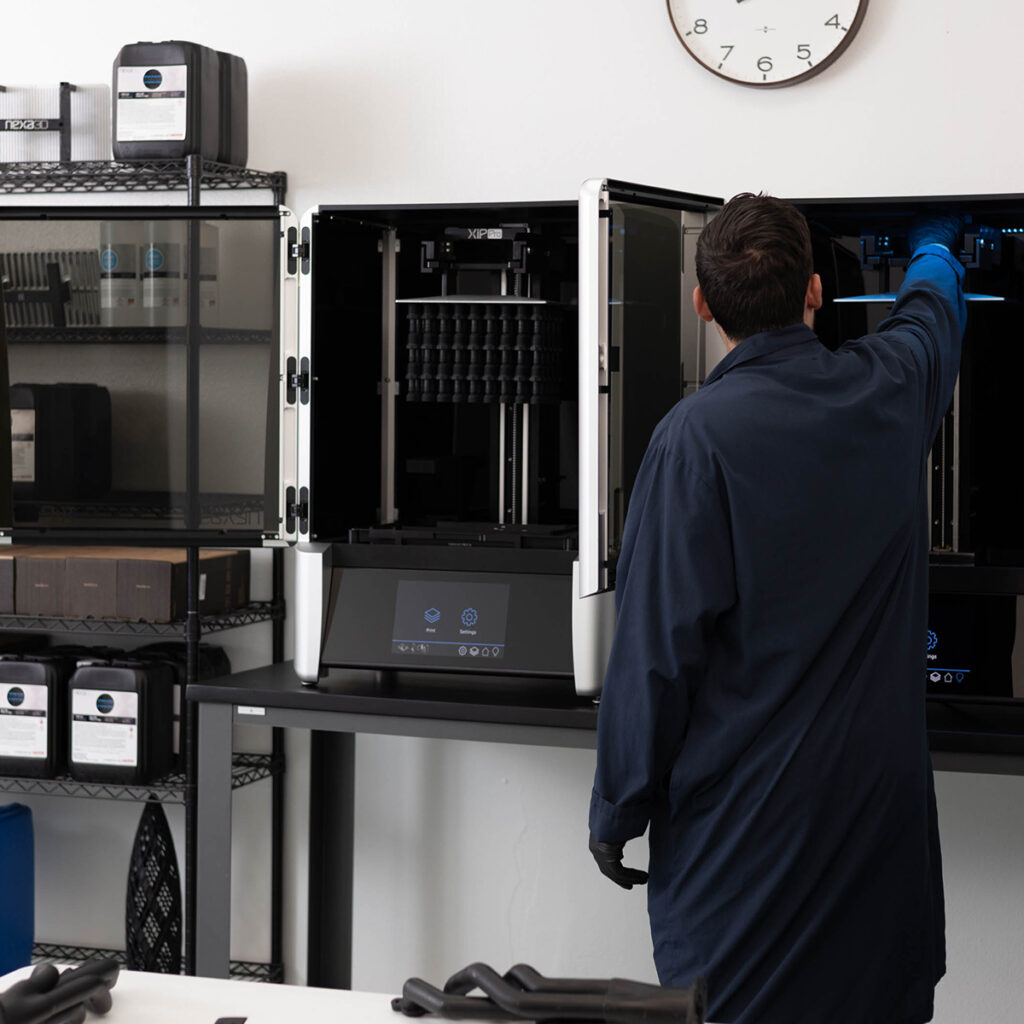 Scale On-Demand Production
With Nexa3D's breakthrough 3D printing technology, you can afford to produce parts on-demand and in the exact quantities you need them, when you need them. Featuring print speeds exponentially faster than the traditional SLA and DLP-based technologies, more powerful print engine, and larger build volume, Nexa3D printers deliver previously unattainable production capabilities for industrial users.
Accelerate Design and Development
Shorten your design cycles and get to production sooner. Increase the number of iterations for a single project, or enable your entire design team to get their prints done – all in one day. Nexa3D printers provide the highest daily production throughput and lowest total cost of ownership in its class. Your team can finally afford to innovate without adding more time to the project.
Create Rapid Tooling
With high temp, high pressure tolerant resins like xPEEK, xCERAMIC, and xMOLD, you easily and cost-effectively print injection molding tools and inserts. Better yet, you can enjoy the freedom of design that comes with 3D printing coupled with mechanical properties of injection molding using the Freeform Injection Molding (FIM) process and xMOLD resin to produce prototypes in standard injection molding materials.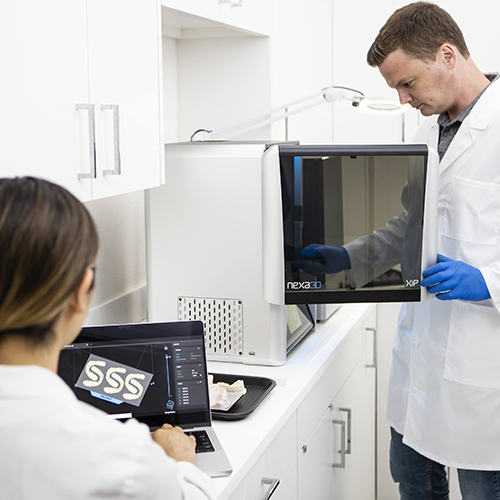 Advance Digital Dentistry
20 models in 30 minutes at 95% accuracy? It's easy with Nexa3D's high performance dental 3D printers and resins. From desktop to industrial, you've got options from chairside to the lab.

"Our R&D Team is able to reduce time to obtain functional samples by as much 80%, and reduce tooling costs by as much as 90%. With the NXE 400Pro, we're able to go from CAD to scale in just 48 hours."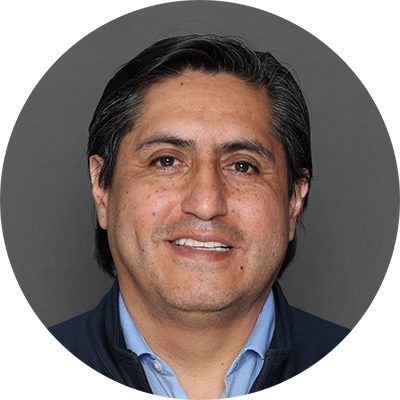 Max Rodriguez
Senior Manager of Global Packaging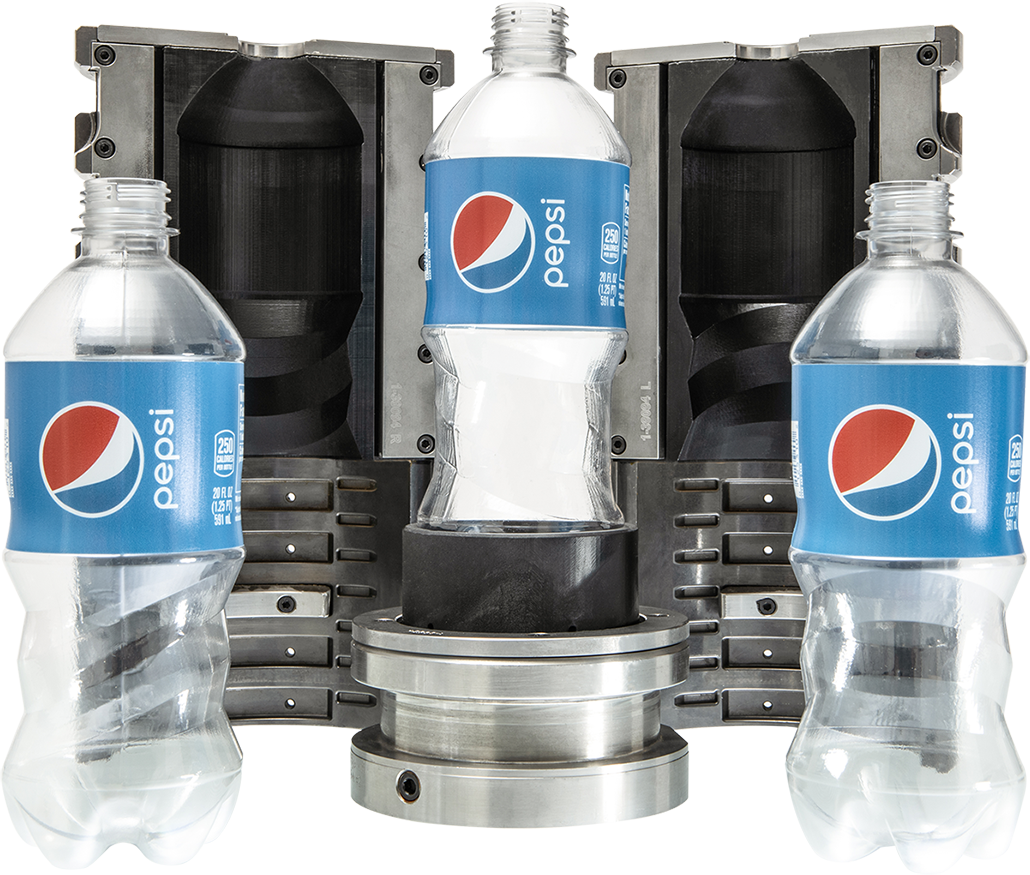 Open Material Platform
We believe in the power of an abundant material ecosystem. That's why we continue to partner with leading material providers to deliver a comprehensive range of high-impact functional materials that are tailored to your mechanical requirements and performance needs.
2023 Material Guide
Download the complete guide of Nexa3D's high-speed materials – featuring xABS, xPP, xPEEK, and xCERAMIC.
Talk to an Expert
Ready to see if ultrafast 3D printing is a good fit for you and your business? Talk to a rep, get a quote, test a benchmark.
Cost Calculator
Got a 3D file? See how fast you can print it with a resin 3D printer from Nexa3D. While you're at it choose a material and calculate the cost.