Drone Manufacturer Increases Throughput by Shifting Production to Quantum Laser Sintering
As UAV manufacturer scales up, it looks to increase its production throughput with the QLS 820
Highly-Accurate LIDAR-Equipped Drones
for Large-Land Surveys
SmartDrone is a leader in drone surveying innovation and technology. Founded in 2020 and based in Tyler, Texas, the company has a mission to bring a capable aerial surveying tool to companies and developers who need to get an accurate picture of the landscape or jobsite without blowing their budgets.
By bringing high resolution LIDAR and camera together with a sensitive GPS module and a powerful onboard computer, and of course a complex software algorithm, the team at SmartDrone was able to provide 1-foot accuracy contour maps—a big deal for their customers. SmartDrone manufactures and sells the drones, but they also have a team of 7 Field Applications Specialists—located regionally across the U.S.—who can provide drone services to customers who aren't yet ready to invest.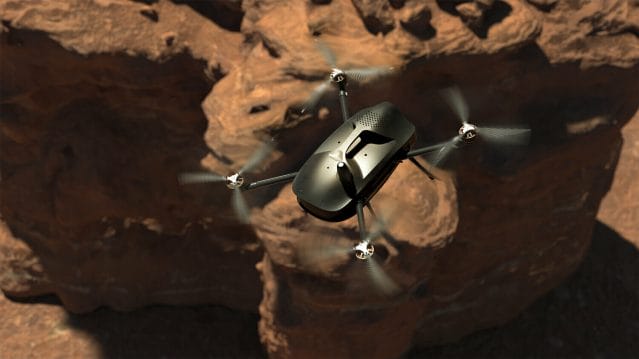 Challenge
3D Printing Drone Parts at Production Scale
The components of the Discovery 2 platform by Smartdrone are varied and include carbon fiber and machined aluminum components, but the external body is 3D printed using PA 12 – a lightweight yet highly durable material. "The PA 12 that we use for the outside shell is very impact resistant which is important on an industrial drone like this that is used in rugged environments and needs to be able to withstand bumps and bruises."
Additive manufacturing allows the SmartDrone team to maintain an agile product development and production process. "We move very quickly in our design and design iterations so tooling something up like this would be very difficult to do with injection molding and the tooling cost at our low volume just makes zero sense," says Chris McKulsky, SmartDrone's Engineering Lead. "Plus with the additive we're able to do more complex geometries and be very strategic about where we can drop weight which is extremely important – every 250 grams is about a minute of flight time. The thin, large surfaces would also likely have a lot of warping in injection molding." Another benefit is that additive manufacturing enables complex internal ducting which can help funnel air to aid in thermal management during flight.
While additive was an obvious solution out of the gate – using an external service provider equipped with Multi Jet Fusion technology, McKulsky and the team at SmartDrone ultimately have a desire to scale up production more economically by bringing a higher throughput SLS printer in house.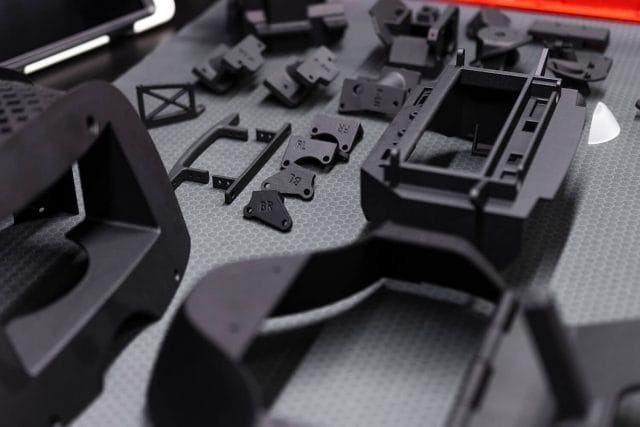 "Looking at costs, the cost of a full assembly built on QLS 820 is the cost of just one of the parts using other SLS technologies,"
Chris McKulsky, Engineering Lead at SmartDrone
Customer
SmartDrone
Industry
Survey Drone Manufacturer and Service Provider
Products
QLS 820 3D Printer
Nylon PA 12 Powder Material
Application
SmartDrone is shifting production of their external housing from MJF additive manufacturing to Nexa3D's new Quantum Laser Sintering platform with PA 12 to reach higher throughput at lower cost as they scale their business to the next level.
Advantages
60% faster build speed
2x the packing density
Larger build volume
Hot Swappable Build Units
Solution
A Growing Company Requires a Cutting Edge Technology
At a prior company, two co-founders of SmartDrone shared a building with Nexa3D in Southern California. McKulsky recalls tapping some of the engineers at Nexa3D to help him print some prototypes on their core technology printers which at the time were exclusively resin-based. Later that year, Nexa3D would acquire NXT Factory – the technology that would become the QLS 820 (short for Quantum Laser Sintering).
The teams kept in touch and by early 2022, as QLS was getting ready to come to market the teams joined forces in a beta program to get a better understanding of just how QLS stacked up against the likes of MJF tech they were already using.
What sets the QLS laser sintering 3D printer apart from other powder bed technologies is its unparalleled throughput. At 8 liters per hour, it is about 60% faster than MJF, plus it has an average build density of 20% compared to just 10% with MJF. Both of those numbers mean higher overall throughput, but QLS also has a bigger build volume, and quick swapping build units, further cementing the appeal of this cutting edge tech in the eyes of the SmartDrone team. "Looking at costs, the cost of a full assembly built on QLS is the cost of just one of the parts using MJF with our service provider," says McKulsky.
SmartDrone is in the process of determining whether to bring the new technology in house, or utilize it through an external service provider. "Building two units per day is where we'd like to be, and we may get to the scale where an in-house production 3D printer makes sense sooner rather than later." The obvious benefits of bringing a 3D printer in house are lowering per part costs and turnaround times. Either way, based on the outcomes they've seen in the initial beta program, SmartDrone will likely be switching to QLS – either in house or via service provider.
Maps to GPS, Airplanes to Drones
In the 1990s, surveyors and developers were still relying on maps and traditional survey tools for large scale projects. While GPS was becoming available, it was slow to catch on. That's where Rob Cammack, CEO of SmartDrone sees the potential of commercial drones as survey tools – an extremely valuable tool that is slowly starting to catch on. "We are already seeing drones' rapidly growing role in many industries today, such as land mapping and surveying, inspections, delivery services, and many more."
As the first fully vertically integrated drone company with hardware, software, data, and services designed, engineered, manufactured, and serviced in the same company, the SmartDrone team sees itself scaling into the go-to company for small and medium-sized firms looking to reap the benefits of leading-edge drone tech. With a drive to equip their customers with the best LiDAR drone technology, their talented R&D engineers have to iterate product features quickly in response to market demand from our clients and customers. "Additive manufacturing, like the QLS 820 from Nexa3D, is an excellent tool for iteration and scaling new product features," says Cammack. "The costs for manufacturing at low volume or scale make complete business sense in manufacturing products." Technologies such as the QLS also help to alleviate supply chain issues that hinder the ability of manufacturers to meet rapidly growing demand, all while bringing down overall cost of production, and delivering quality, speed and affordability for a rapidly growing company such as SmartDrone.