Redefining Additive Manufacturing Productivity
XiP Pro is an industrial resin 3D printer delivering highest production throughput at the lowest cost of operation. Offering the largest build volume and fastest print speed in its class, its unrivaled productivity allows you to produce functional prototypes and final use parts at previously unattainable production economics. Its state of the art, LCD-based VAT photopolymerization process using the patented Lubricant Sublayer Photocuring (LSPc) technology delivers high accuracy, excellent dimensional stability, and superb surface quality.
Large Build Volume
With a 19.5L build volume, XiP Pro delivers the daily throughput of 4+ other industrial resin-based printers, allowing you to dramatically change the economics of your 3D printing production, on top of reducing your investment in equipment. With its unique stacking ability you can optimize every build by easily stacking your smaller parts on top of one another to take full advantage of XiP Pro's entire build volume. From extra large parts to many smaller parts, XiP Pro can do it all.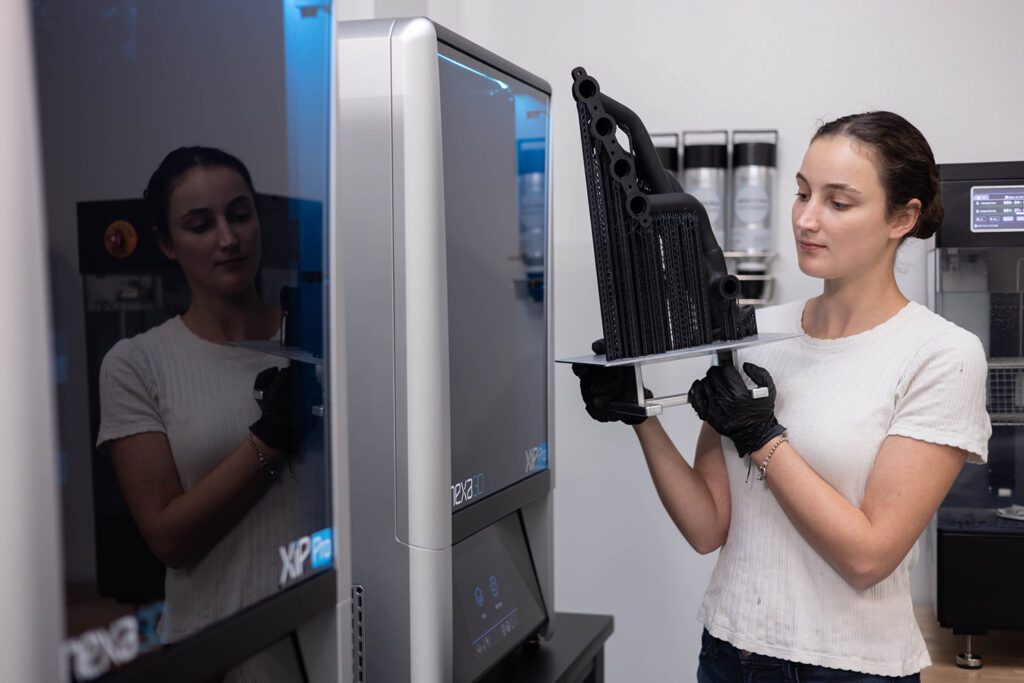 Blazing Fast Print Speed
Tradeoffs have always been a key component of 3D printing – if you want speed, you have to compromise on quality. Not anymore. With industry leading print speed of up to 24 vertical centimeters per hour, XiP Pro can produce its entire build volume in under two hours. Its patented LCD-based LSPc print technology uses a self-lubricating membrane that enables lighting-fast print speed and unprecedented production value without sacrificing print quality or surface finish.
Superb Accuracy and Surface Quality
Not only does XiP Pro offer outstanding speed and throughput capabilities, it boasts a cutting-edge 7K resolution LCD screen with 46 µm pixel size and 23 µm sub-pixel resolution using antialiasing technology. Whether you are creating prototypes or production parts, every detail of your design is captured with unparalleled clarity and precision giving you a finished product that is both stunning and accurate. The enhanced printability and exceptional first-time build success rate are enabled by its advanced sensor package, adaptive layer-by-layer printing technology, and closed-loop z-stage with auto-homing and debris detection.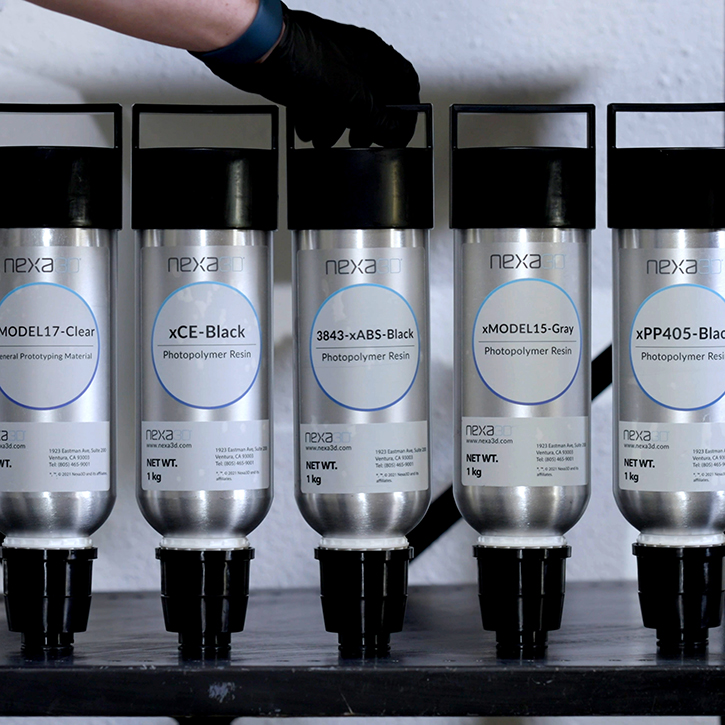 Material Versatility
Offering a broad range of high-performance manufacturing materials, ranging from strong and durable resins, like xABS, xPP, and xCE to elastomeric materials, like xFLEX475 and xFLEX402, XiP Pro is an open platform printer, meaning material options are virtually limitless. Whether you're looking to build quick models in clear resins, prototype functional parts in engineering materials, or produce end-use components and 3D printed molds using heat-resistant resins, like xPEEK, xCERAMIC, or xMOLD you'll find that XiP Pro is the most versatile industrial 3D printer on the market.
Specifications
| | |
| --- | --- |
| Build Volume | 19.5L |
| Build Dimensions | 292 x 163 x 410 mm (11.5 x 6.4 x 16.10 in) |
| Design | Modular / Upgradeable |
| Enclosure | Billet Aluminum |
| Interface | 10″ High-Resolution LCD Touchscreen |
| LCD Resolution | 7K (6480 x 3600) |
| Open System | Yes |
| Pixel Size | 46 µm |
| Print Resolution | 25 µm – 200 µm |
| Product Dimensions | 622 x 447 x 895 mm (24.5 x 17.6 x 35.25 in) |
| Software | NexaX Pro |
| Validated Materials | 19+ (updated monthly) |
INTRODUCING
0% Interest Financing for Industrial 3D Printers.
Start printing now and pay over 36 months with 0% APR on approved credit. Offset upfront costs of hardware and put your capital back to work.
"XiP Pro gives us about 10x the throughput of what we had before. Nexa3D has done a really great job taking the costs out of 3D printing while increasing the capacity. Their printers are getting bigger, faster and more affordable at the same time. It's a total win for the users."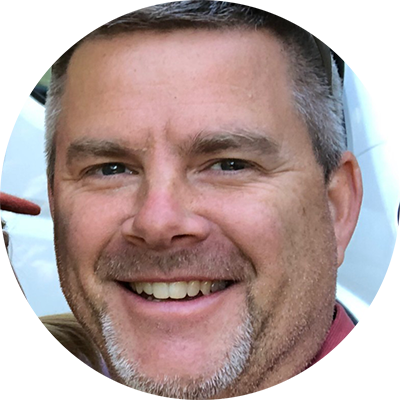 Glen Mason
DeMarini Sports / Wilson Sporting Goods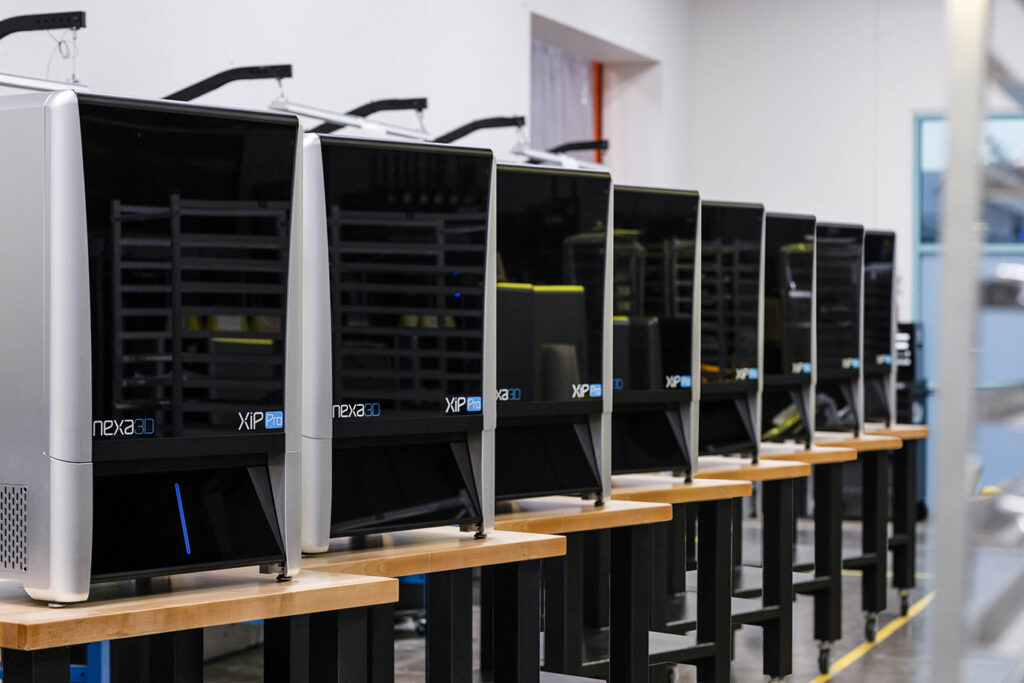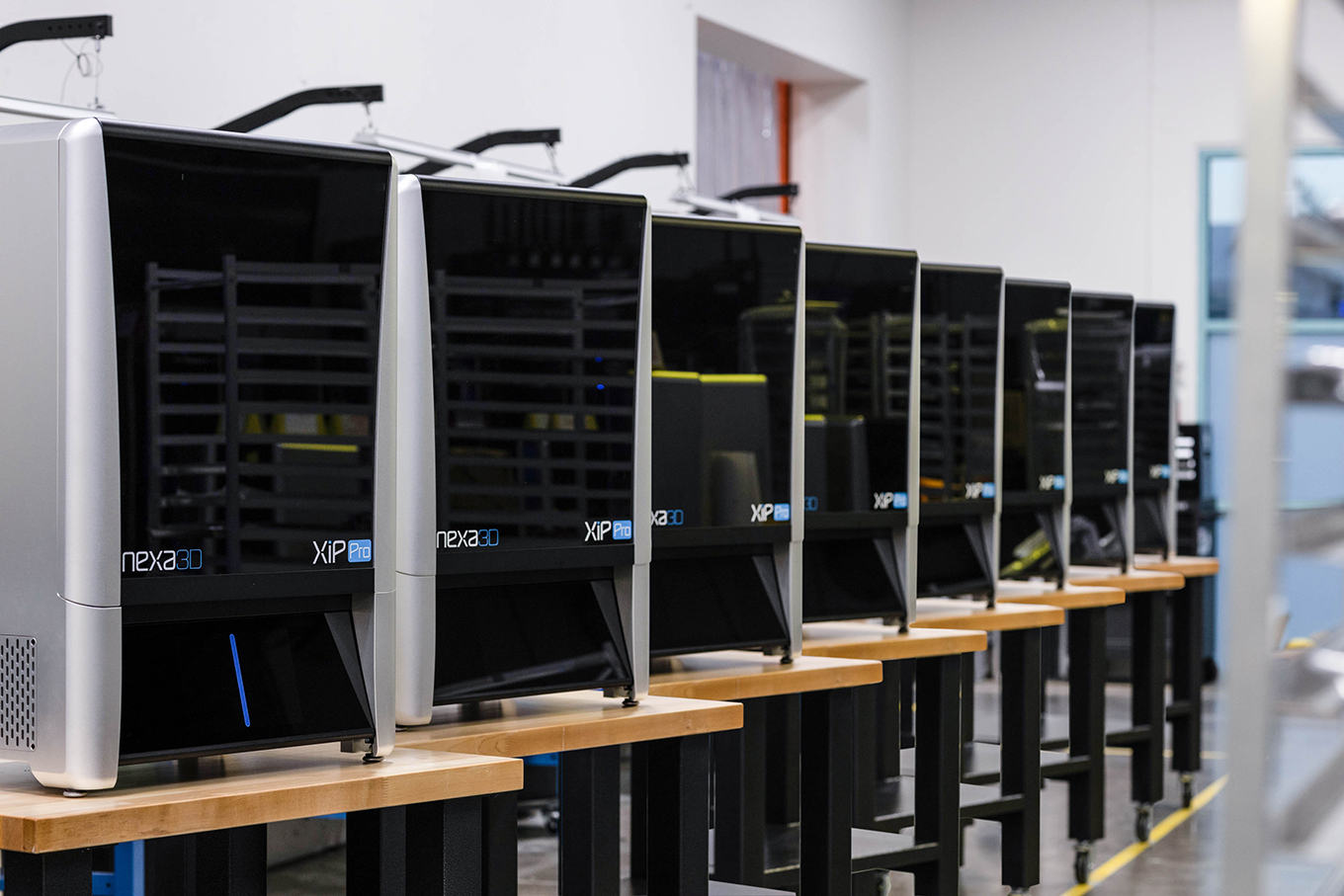 ON-DEMAND WEBINAR
XiP Pro Product Launch
An in-depth overview of the new XiP Pro Industrial 3D Printer. We walk you through all the features and technical specifications of this powerful new printer that will take your additive manufacturing to a completely new level of productivity
Watch Now

Manufacturing
Tooling, Jigs and Fixtures

Prototyping

Digital Dentistry
Industrial Capacity, Small Footprint
Solid billet aluminum unibody frame provides strength, durability, and z-stage stability for maximum precision and reliability, all packaged to fit in any setting.
Intuitive NexaX Software
NexaX Pro is a powerful print-prep software that allows for easy file import, analysis, repair, and remote printing with fleet monitoring.
Smart Resin Delivery System
From smart resin cartridges, to a suite of on-board sensors that automatically optimize each print, to auto-homing, XiP Pro makes every print job a breeze.
Printing & Post Processing
xWASH and xCURE provide a powerful one two post-processing punch for hassle free washing and post-curing of your large XiP Pro builds.
Modularity and Simple Serviceability
XiP Pro's upgradable architecture and use of latest LSPc® technology make it a sustainable investment built to last.
Five Star Service Plan
Evercare is Nexa3D's premium service plan that provides on-call experts for an added peace of mind and personalized 3D printing technical support. Environmental Monitoring System
An advanced sensor suite including environmental monitoring to help ensure print to print consistency on the production floor.
XiP Pro vs. Carbon® M2/M3
If you are seeking an industrial resin 3D printer, the XiP Pro and Carbon M2/M3 are currently the most commonly used 3D printers by OEMs and service providers. By comparing pricing and specifications, you can determine which industrial resin 3D printer is best suited for your specific needs.
XiP Pro vs. Stratasys® Origin One
For those interested in high-speed, industrial resin 3D printers, the XiP Pro and Stratasys Origin One are two of the most prevalent options available. To assist you in deciding which system is better for your specific application, we've provided a straightforward comparison between the two 3D printers.
High Performance Materials
Broad range of validated materials, ranging from strong and durable resins to elastomeric and modeling materials in addition to an open material platform for maximum flexibility.
Intelligent NexaX OS Software
The latest version of NexaX OS enables faster and more efficient file prep and build workflow, fleet management. and remote monitoring for an optimized end-to-end workflow.
Cost Calculator
Got a 3D file? See how fast you can print it with a resin 3D printer from Nexa3D. While you're at it choose a material and calculate the cost.