Latest posts by Madeline Hogan
(see all)
Advancements in 3D printer software have played a significant role in the success of the 3D printing industry. From 3D printed design to translating your 3D design into the language that the 3D printer understands, 3D printer software tools are essential for transforming innovative ideas into physical objects.
As the industry continues to evolve, so does the software that drives it. Today's 3D printing software market is extensive and varied, ranging from free platforms for beginners to advanced packages tailored for seasoned professionals.
This guide will break down some of the best 3D printer software options available this year, including design and modeling software, slicers, printer hosting, and more. We'll cover their features, how they work with different printers, and what sets each one apart.
Best 3D Printer Software: NexaX
Nexa3D offers two of the best 3D printer software on the market: NexaX and DentFlow.
NexaX is an automated print preparation and 3D printer management software that enables process stability and print consistency, making it easier to scale from prototyping to full-scale production. The software provides APIs that make it easy to integrate with multiple software tools, including assembly parts consolidation, generative design for AM, lightweighting, automated print optimization, part cost estimator, ROI calculator, and MES workflow.
DentFlow is a 3D printing software that helps dental professionals automate build preparation for orthodontic and crown & bridge models. DentFlow is embedded within NexaX and allows dental professionals to prepare a full day's worth of prints in minutes, saving time and eliminating complexities typically associated with file prep and pre-processing workflows.
Pros:
Seamless integration with various software tools like ROI calculator and MES workflows
Proprietary slice algorithms and automatic support generation
Printer Fleet Management enables users to connect to printers, queue jobs, and review job history
Open material platform so you can print 3rd party resins and access a full suite of process parameters to customize for any scenario
Provides print statistics which includes a summary of print time, number of layers, and part volume
Flags common mesh issues that impact printing and fixes mesh issues to prevent print failures
Intelligent process controls that adapt to part geometry to maximize printability and speed
Windows and Mac compatibility
Tabbed application to work on multiple projects simultaneously
At Nexa3D, we have more than just the best 3D printer software. We also have the fastest 3D printers on the market with the largest build areas in their class — all without sacrificing part quality and while using affordable, long-lasting, and readily available components.
Nexa3D's ultrafast 3D printers can make your product development and manufacturing needs faster, more efficient, and cost-effective.
Best 3D Printing Software for Design & Modeling
3D printing software for design and modeling refers to specialized computer programs used for creating, modifying, and preparing three-dimensional digital models during 3D printing processes. They are computer programs that convert 3D design models to a usable format or language that a 3D printer understands.
Below are some of the best 3D printing software for design and modeling:
1. Autodesk Fusion 360
Autodesk Fusion 360 is a cloud-based software that integrates CAD software, computer-aided manufacturing (CAM), and computer-aided engineering (CAE) tools for 3D product design and manufacturing. The software offers parametric modeling, simulation, rendering, slicing, and data management capabilities.
Autodesk Fusion 360 is suitable for serious hobbyists and professional 3D printers. It also has a  "personal use" version which is a free platform that offers limited features suitable for a wide range of printing processes.
Pros:
Flexible 3D CAD, CAM, and CAE functions
Seamless 3D design simulation
Integrated cloud collaboration tools
Generative designs with simulation and analysis tools
Cloud-based data management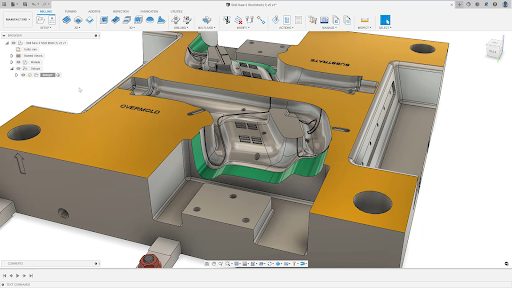 2. Blender
Blender is a  free, open-source 3D printing software that offers an array of features, including modeling, sculpting, rendering, and texturing. Blender's interface uses OpenGL to provide a consistent experience for all users and runs on Windows, Linux, and Macintosh computers.
Pros: 
Open-source platform
Active community that contributes to tutorials, plugins, and ongoing development
Suitable for several platforms, including Windows, Linux, and macOS
Library of user-contributed add-ons
3. Catia
CATIA (Computer Aided Three-Dimensional Interactive Application) is a multi-platform CAD, CAM, and CAE software suite developed by Dassault Systèmes for product design, engineering, and simulation. It offers advanced tools for creating, analyzing, and visualizing complex 3D models and designs across various manufacturing industries including aerospace, industrial equipment, and more.
Pros:
Advanced design tools for creating intricate 3D models
User-friendly interface and an active community of users
Built for complex designs and large-scale projects
Facilitates collaboration on projects
Surface modeling and realistic rendering capabilities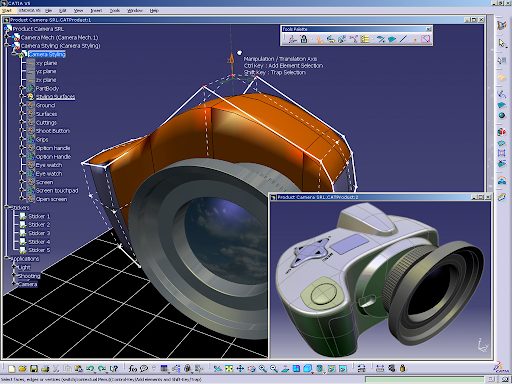 4. Creo

Creo is a 3D CAD, CAM, and CAE solution that allows engineers to conceptualize, design, analyze, and validate products. It is used for product simulation, 3D mechanical design, analysis testing, tooling creation, design communication, and manufacturing application. It also offers advanced capabilities such as product data management, generative design, rendering, and  3D animation.
Pros:
Handles large and complex assemblies
Facilitates collaboration and teamwork on projects
Interoperability with Other CAD Formats
Compatibility with the Internet of Things (IoT) and Augmented Reality (AR)
5. FreeCAD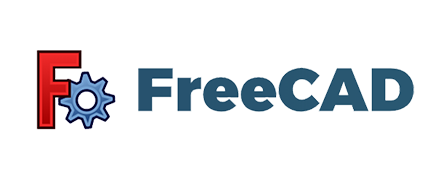 FreeCAD is a free, open-source parametric 3D modeler and building information modeling (BIM) software with advanced tools suitable for designing complex 3D models. It's used by hobbyists and experienced CAD users for product design, mechanical engineering, and architecture.
FreeCAD offers various features, such as dedicated BIM and mesh design workbenches. Users can increase software functionality using the Python programming language.
Pros: 
Free and easy-to-use interface
Texture mapping capabilities and integrated slicing features
OpenCasCade-based geometry kernel for creating complex shape types
Full parametric model
Multi-platform, suitable for Windows, Mac, and Linux
Customizable and extensible
6. nTop
nTop, founded by Bradley Rothenberg, is a 3D design and engineering software that enables generative design, complex geometry creation, and advanced simulation-driven workflows. It supports the design of high-performance geometries, provides instant rendering, and integrates with several software stacks.
Pros:
Advanced geometry control and topological optimization
Collaboration and performance optimization features
Integrated simulation
Customizable workflows
7. Onshape

Onshape is a cloud-native product development software that integrates CAD, data management, and analytics for 3D model design. It is a multi-user environment that allows designers, internal teams, customers, and external partners to access, collaborate, and work together from conception to production.
Onshape also includes a built-in product data management (PDM) system that includes a set of tools for managing and controlling design data within a 3D CAD environment.
Pros:
Cloud-based accessibility
Parametric modeling
Centralized data management and customizable workflows
Built-in simulation
Real-time collaboration
Version control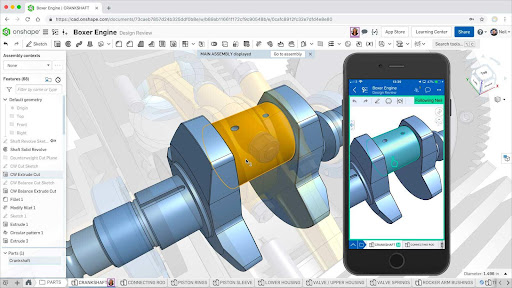 8. Rhino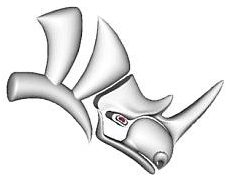 Rhino, also known as Rhinoceros, is a 3D free-form modeling software used by designers, architects, and artists for creating intricate 3D models and surfaces. Rhino can create, edit, analyze, document, render, animate, and translate NURBS (Non-Uniform Rational B-Spline) curves, surfaces, solids, and polygon meshes.
The latest version is Rhino 7, and it is compatible with hundreds of different CAD, CAM, CAE, rendering, and animation products.
Pros: 
NURBS-based modeling with open architecture
Multi-platform compatibility for Windows and macOS
Customizable interface and workflows
Open architecture for plugins and scripting
Large model handling and 3D support
9. SketchUp
SketchUp is a 3D modeling software that caters to industries like architecture, construction, urban planning, woodworking, and interior design. It allows designers to create, store, and convert 3D models into 2D designs, offering a user-friendly interface suitable for both novices and professionals.
The software's built-in drawing tools facilitate the crafting of complex 3D shapes and 2D drawings, complete with annotations, dimensions, and contextual comments for other professionals.
Pros: 
Training resources and community forum
Easy learning curve and intuitive design
Interactive animations and walk-throughs
Easy texture and material application
Styles and rendering options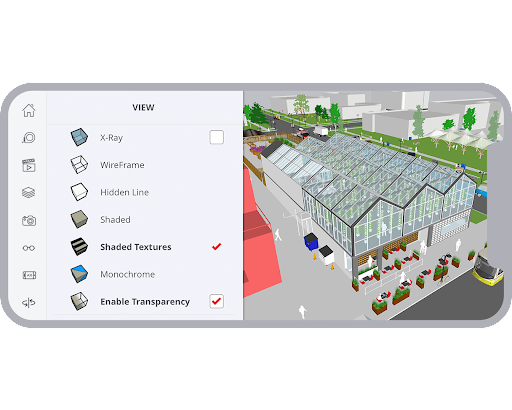 10. Solidworks

Solidworks enables engineers and designers to create intricate 3D models, assemblies, and drawings. It offers advanced tools for parametric modeling, simulation, and documentation. It is used across various industries, such as automobile, aerospace, and construction to facilitate the design and development of innovative products.
Pros: 
Secure cloud services
Active community and user forum
Mesh repair and editing
Advanced features for processing raw data
11.Tinkercad

Tinkercad is a free 3D modeling software that runs on a web browser. It features an easy-to-use interface and offers tutorial resources, making it an ideal choice for designers without prior 3D experience.
Tinkercad is ad-free and kid-safe. It also bears the ISTE Seal of Alignment and adheres to ISTE, Common Core, and NGSS standards for the classroom.
Pros:
Drag-and-drop shapes and easy-to-use 3D sculpting tools
Step-by-step tutorials and learning resources
Library of pre-built shapes and basic shape generators
Text tools and alignment aids to simplify the design process
Web-based platform that supports real-time collaboration
Codeblocks feature for simple programming-based design
Best Slicers & 3D Printer Hosting Software
Slicer software translates 3D models into instructions for 3D printers by converting files, such as STL or OBJ, into G-code. This G-code specifies printing parameters, such as layer height and speed. Hosting software provides an interface to control and monitor 3D printers, offering tools for users to load models and oversee printing progress.
In many cases, slicer and hosting features are integrated into one software so the software can perform both functions. Some of the top choices for slicer and hosting software include the following:
1. AstroPrint
AstroPrint is a cloud-based slicer suitable for both hobbyists and large-scale manufacturers. AstroPrint allows users to add and edit their designs with their online build plate STL viewer application. Users can also slice and print wirelessly through an intuitive interface. AstroPrint has both free and paid plans.
Pros:
Compatible with a vast array of printers
Suitable for small and large-scale production
Advanced analytics to optimize production
Real-time progress view of prints
3D sculpting and rendering
Real-time collaboration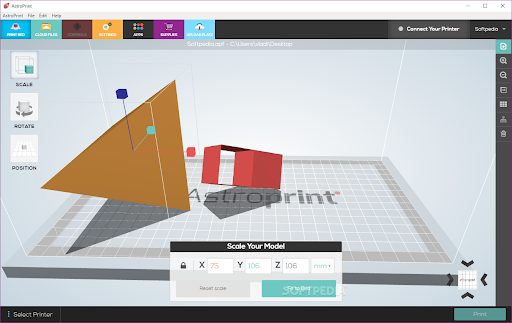 2. Lychee Slicer
Lychee Slicer is used for translating 3D models into layer-by-layer instruction for resin and stereolithography (SLA) 3D printers. It is available in three editions: Free, Pro, and Premium, all equipped with different ranges of 3D editing and printing tools. Lychee Slicer is compatible with Mac, Linux, and Windows and allows users to fine-tune print settings, supports hollowing and infill options, and streamlines the path from design to high-quality resin prints.
Pros: 
Resin-focused 3D slicer
Customizable settings and automated support generation
User-friendly interface and cross-platform compatibility
Layer-by-layer preview with layer editing tools
Compatibility with a wide range of resin materials
Real-time tools and functions to improve printing workflow
3. PrusaSlicer
PrusaSlicer is a free, open-source software based on Slic3r by Alessandro Ranellucci. The software has features such as a simple interface, color painting, built-in shape gallery, and print time/feature analysis. It offers comprehensive custom support and supports Octoprint, Repetier Host, FlashAir SD cards, and more.
Pros: 
LCD (resin) and multi-material support
Full 3D rendering
User-friendly interface and customizable support
Mesh mixing, editing, and repair tools
Multi-platform compatibility
Advanced print settings and parameter control
Supports various filament materials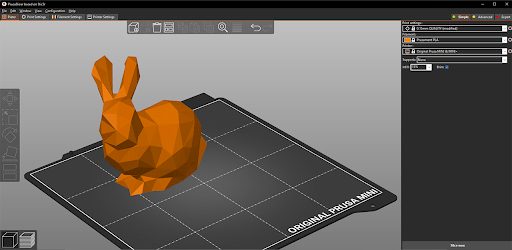 4. UltiMaker Cura
UltiMaker Cura is a free 3D slicing software with more than 400 settings suitable for designers from all experience levels. It's designed for FDM 3D printers to efficiently convert 3D models into printable instructions. UltiMaker Cura offers a variety of features, including an intuitive interface with extensive customization options for supports, infill, and print parameters.
Pros: 
Multi-platform compatibility with Mac OS, Windows, and Linux
Custom mode with over 400 settings for granular control
CAD plugin integration with SolidWorks, Siemens NX, Autodesk Inventor​, and more
Compatible with various file types (STL, OBJ, X3D, 3MF, BMP, GIF, JPG, PNG)
Intuitive surface with easy UI
Best STL Editor & Repair 3D Printing Software
An STL editor allows users to modify STL files, which are the standard file format used in 3D printing. STL repair software analyzes and fixes errors in STL files that can prevent them from being printed correctly.
Some of the best STL editing and repair software for 3D printers include:
1. ideaMaker
Raise3D's IdeaMaker is a slicing software that offers printing support and a set of tools ideal for manually editing STL files. The software enables users to create different iterations of the same STL model by applying different patterns to the selected model's surface.
The software works by creating a concave or convex surface on the designated model according to the values of an image's grayscale. It also offers features to customize support, use automatic parameters for optimization, and modify 3D models freely.
Pros: 
Dual-extrusion compatibility
Automatic support-structure generation
Multi-platform compatibility
Print preview and visualizer
Less CAD processing time
2. Meshmixer
Meshmixer is an Autodesk program designed to work with dynamic high-resolution 3D meshes. It's regarded as a "Swiss Army knife" for mesh repair with a suite of advanced tools that enable creators to sculpt intricate designs, repair mesh imperfections, and blend models seamlessly.
Pros: 
Allows for automatic print bed orientation optimization, layout, and packing
Automatic alignment of surfaces
Branching support structures for 3D printing
Advanced selection of tools including brushing, surface-lasso, and constraints
3. MeshLab
MeshLab is an open-source software for 3D mesh processing used by artists, researchers, and 3D printing enthusiasts. MeshLab offers tools to clean, edit, and analyze meshes and also enables 3D creators to repair models, design intricate details, and generate high-quality renders, enhancing 3D modeling and printing endeavors.
Pros: 
Mesh editing, cleaning, healing, inspecting, rendering, texturing, and converting tools
Filters and filterscripts
Multi-compatibility with different file formats
Point cloud processing
Scripting support and measuring tools
Use the Best 3D Printer Software
When it comes to 3D printing, using the right software is as crucial as having the right 3D printer. From designing intricate models with CAD tools to slicing your design into printable layers to managing your print jobs effectively, your choice of software impacts every step of the 3D printing process.
For those seeking unmatched precision, efficiency, and ease of use, Nexa3D's 3D printing software is the best choice. Designed to streamline your workflow, NexaX not only simplifies the complexities of 3D printing but elevates the entire experience to a new level of excellence.
Coupled with a wide range of 3D printers that keep automation and scalability in mind, Nexa3D unlocks a new world of possibilities with 3D printing.
Ready to experience it yourself?