Latest posts by Madeline Hogan
(see all)
Industrial 3D printers are used in the production of jigs, fixtures, and other tooling in-house. Various industries take advantage of this technology for faster prototyping, reduced time to market, and a substantial decrease in waste compared to traditional subtractive manufacturing methods.
With the rapid expansion of the 3D printing market, businesses and organizations now have multiple 3D printers to choose from. But how do you choose the best industrial 3D printers for your business?
This article will explore some of the best industrial 3D printers as well as the factors to consider before choosing a printer.
Industrial 3D Printing Processes
Industrial 3D printers are different from desktop machines in that they are more accurate and have a higher speed, even though they are more expensive. Industrial 3D printing is popular where high-volume production is required and in rapid prototyping. Desktop 3D printers, on the other hand, are used for educational and hobbyist purposes.
3D printing processes used in industrial 3D printing vary with material selection, binding process, surface finish, durability, manufacturing speed, and cost. They include:
Fused deposition modeling (FDM)
This is an additive process typically used to create plastic parts. It works by extruding a plastic filament through a heated nozzle and depositing the melted material on the printer's build platform in layers. FDM printing builds the 3D design from the CAD file layer by layer and fuses every layer together to form a three-dimensional structure.
FDM is used in various industries like prototyping, manufacturing, and education.
Resin 3D Printing
Resin 3D printing uses liquid resins to build objects. This 3D printing type is also known as vat photopolymerization: the process uses short wavelength light to solidify liquid resin into 3D pieces.
In most resin 3D printers, the process starts with a resin vat filled with liquid resin. The 3D printer then emits light to create each object layer. As the light passes through the vat and curing layer, it solidifies or cures the liquid resin into solid pieces. This process continues until all layers have been printed.
There are different types of resin 3D printing techniques, including:
Stereolithography (SLA) which is the first generation of resin 3D printing
Digital Light Processing (DLP) is a second generation of resin printing that uses shorter wavelength light for the curing process
Masked Stereolithography (mSLA) is the latest generation that uses masks to control where light reaches on the build plate.
Resin 3D printing is known for its speed, finer finishing, and versatility due to its support of various materials.
Selective Laser Sintering (SLS)
SLS operates based on PBF technology by using a high-power laser beam to selectively combine polymer powder particles on a powder bed and fuse them to build a structure layer by layer. Sintering combines particles into a solid mass using heat and pressure, usually without melting or heating the particles to the point of liquefaction.
It's an industrial printing process used for producing accurate prototypes and functional production parts.
Material Jetting
This additive manufacturing process uses a printhead similar to those used in standard inkjet printing to dispense droplets of a photosensitive material that solidifies under ultraviolet (UV) light in a process known as photopolymerization. By doing so, it follows the typical 3D-printing process of building a structure layer by layer with high dimensional accuracy and a very smooth finish.
The materials used in Material Jetting (MJ) are usually thermoset photopolymers (acrylics) in liquid form.
Metal 3D Printing
Metal 3D printing is a distinctive additive manufacturing process that is used to create precise metal structures. It mostly includes Selective Laser Melting (SLM) and Direct Metal Laser Sintering (DMLS) which are two metal additive industrial printing processes that belong in the powder bed fusion family (i.e. a printing method that uses either a laser or electron beam to melt and fuse material powder into a 3D structure).
Metal 3D printing is often used to create end-use engineering products.
Best Industrial 3D Printers
With several industrial 3D printers in the market today, it can be challenging to figure out which printers are best for your printing business. To help, we've compiled a list of some of the best industrial 3D printers for efficient manufacturing practices today.
1. QLS 820
The QLS 820 thermoplastic 3D printer is a quad laser system that offers unprecedented production capabilities designed with automation and scalability in mind. The QLS 820 has 4x more power and throughput compared to competitor models, and this thermoplastic 3D printer can print up to 8 liters per hour at 20% job density. QLS 820 has an open-source platform that allows for the printing of many materials including PA12, PA11, and Polypropylene, as well as aluminum, glass, and fiber-filled options.
Reputable manufacturers trust Nexa3D QLS820 for their production needs. The drone manufacturing company, SmartDrone, used the QLS820 to scale up its production throughput. SmartDrone gained a 60% faster build speed, 2x the packing density, larger build volume, hot-swappable build units, and more.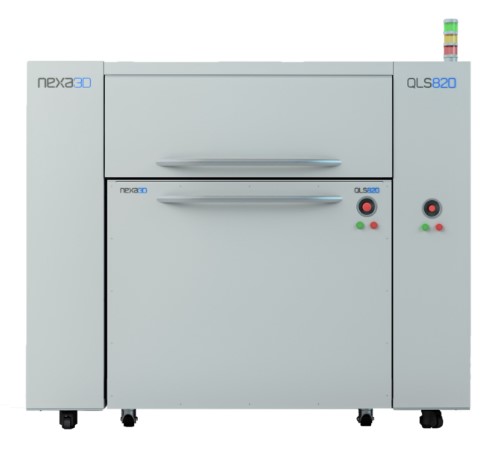 Key Features: 
High throughput (4x the throughput of traditional SLS printers)
Smart automation & advanced fleet management software
350 x 350 x 400 mm build volume
Open source platform
Best For: High-volume production manufacturing in a variety of materials. Injection mold tolerances for full production capabilities, including high temp thermoplastics like PBT and PA6 materials.
2. QLS 236
QLS 236 is an open platform selective laser sintering 3D printer with 16+ qualified materials including a range of Polyamides, PP, PBT, and TPU, as well as patented metal powders from headmade materials®. It has an unrivaled 21-hour cycle speed that uses a single 60 Watt CO2 laser to produce prototypes and production parts with robust mechanical and thermal properties. In addition to a broad range of high-temp thermoplastic materials, it excels with recycled powders from HP® and EOS.
QLS 236 has one of the lowest entry points in the professional selective laser sintering market, combined with lower operating costs due to its powder refresh rate of just 20% and use of third-party materials. It is also compatible with cold metal fusion and can produce titanium and steel parts.
Key Features: 
One of the lowest costs of entry in the SLS market
Material flexibility (including a range of Polyamides, PP, PBT, TPU, as well as the patented metal powders from headmade materials)
230 x 230 x 250mm (9.0 x 9.0 x 9.8in) build volume
Compatible with cold metal fusion
Powered by two advanced software suites, Buildware, and XYZprint AMSLS
Best For: The QLS 236 printer is a workhorse best for harnessing material flexibility and versatility to create durable structures with robust mechanical and thermal properties. Also perfect for those who prioritize environmental sustainability, and are looking for a printer that can create titanium and steel parts.
3. QLS 230
QLS 230 is the most affordable open platform selective laser sintering 3D printer for industrial use with 10+ qualified nylon and metal fusion materials. In addition to the currently qualified materials, it excels with recycled powders from HP and EOS for ultimate operational sustainability. QLS 230 is a productivity powerhouse. It uses a single 30 Watt CO2 laser to increase your daily throughput without the need for a lengthy cooling period due to its smaller build chamber.
It has the lowest entry point in the professional selective laser sintering market, combined with lower operating costs due to its powder refresh rate of just 20% and use of third-party materials. It is also compatible with cold metal fusion, being able to produce titanium and steel parts.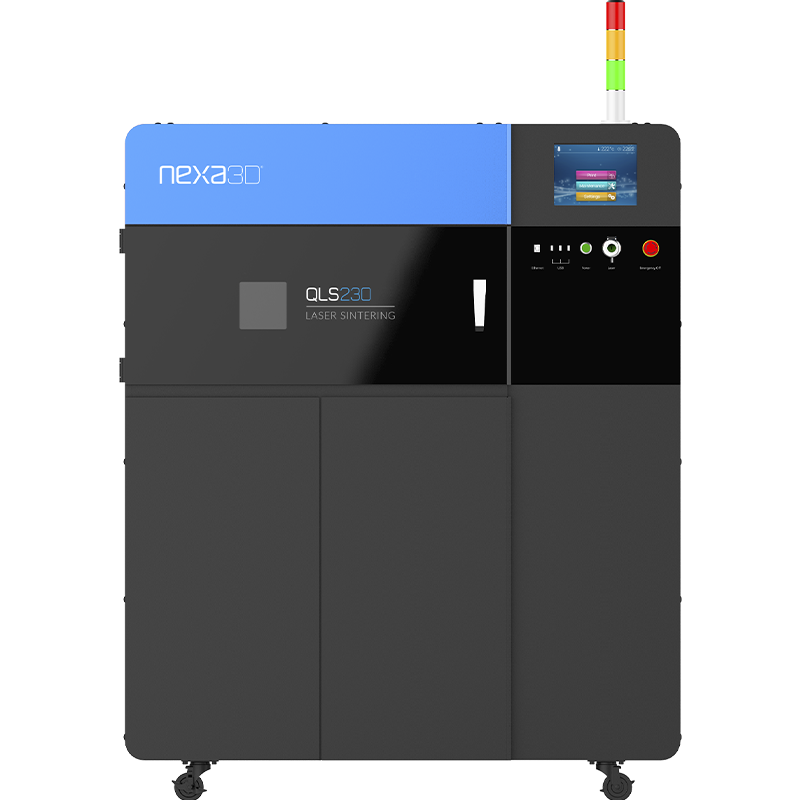 Key Features: 
Lowest cost of entry in the SLS market
Compatible with 10+ qualified nylon and metal fusion materials
230 x 230 x 230mm (9 x 9 x 9in) build volume
Compatible with cold metal fusion
Up to 20mm per hour build speed
Best For: Companies who prioritize environmental sustainability, and are looking for a printer that can create titanium and steel parts while also having the lowest entry point in the SLS market.
A prime example is JawsTec, which specializes in 3D printing, CNC machining, and metal fabrication services. The company offers innovators, engineers, and entrepreneurs access to rapid prototyping and produces parts for some of the most prominent brands, including SpaceX, Tesla, Apple, BMW, Ford, and Delta.
JawsTec was looking to raise its additive manufacturing output, streamline costs and enhance company sustainability by significantly lowering the waste ratio of sintering powders. To achieve this, JawsTec chose the QLS laser sintering technology by Nexa3D to eliminate powder waste while dramatically increasing machine throughput and uptime.
With four QLS 230 3D printers, JawsTec raised SLS manufacturing output by 50% due to the platform's shorter printing cycles, saving tens of thousands in material costs and generating hundreds of thousands in incremental revenue.
4. XiP Pro

Nexa3D XiP Pro is an industrial resin 3D printer that delivers the highest production throughput at the lowest cost of operation. XiP Pro offers the largest 19.5L build volume and fastest print speed in its class–and its unrivaled productivity allows you to produce functional prototypes and final-use parts at previously unattainable production economics.
Various industries use XiP Pro printers for their manufacturing needs. According to Glen Mason, Manager of Advanced Innovation/Industrialization at DeMarini (a division of Wilson Sporting Goods), "XiP Pro gives us about 10x the throughput of what we had before. Nexa3D has done a really great job taking the costs out of 3D printing while increasing the capacity. Their printers are getting bigger, faster, and more affordable at the same time. It's a total win for the users."
Key Features: 
Large industrial capacity and compact footprint
Intuitive NexaX Software & Smart Resin Delivery System
Environmental Monitoring System
19.5L build volume & 10″ High-Resolution LCD Touchscreen
Best For: Prototypes and production applications for engineering, dental, and other industries.
5. NXE 400Pro
Nexa3D NXE 400Pro is ideal for both industrial and dental applications, and it comes with an exceptional 17L build volume and ultrafast speeds without compromising accuracy or repeatability. It uses Nexa3D's patented Lubricant Sublayer Photo-curing (LSPc®) technology that delivers accuracy with a superior surface finish.
NXE 400Pro industrial resin 3D printers offer a wide range of materials to meet performance needs — including polypropylene, acrylonitrile butadiene styrene, and other engineering-grade functional materials.
Various manufacturers use Nexa3D NXE 400Pro for their production needs. Murtfeldt Additive Solution GmBH, a full-service production company, uses NXE 400Pro to produce specific, high-quality electrical connectors. These high-precision products require an excellent surface finish to be effective, and the NXE 400Pro was the only 3D printer capable of the job.
Key Features: 
Open material platform and compatibility with general-purpose photopolymer materials
Unmatched 17L build volume (274 x 155 x 400 mm) build volume.
Best in its class for print speeds (6.5x faster than other SLA and DLP technology).
LSPc light engine delivers uniform, high power, and distortion-free image to ensure part-to-part accuracy and uniformity.
A self-lubricated membrane prevents delamination forces and enables fast print speeds.
Best For: Production and on-demand manufacturing and functional prototypes.
Get a sample part from the NXE 400Pro
6. 3D Systems ProX SLS 6100
ProX SLS 6100 is designed for large-scale, production-level 3D printing and comes with a Material Quality Control (MQC) system that delivers automated mixing, recycling, and manual-free material transportation to the printer. The ProX SLS 1600 works with powder plastics and is particularly suitable for engineering-grade plastics such as Nylon.
Key Features: 
Wide material compatibility
Large build volume
Automated production tools
Build volume of 381 x 330 x 460 mm
Best For: Nylon and thermoplastic 3D printing applications.
7. EOS P 810
EOS P 810 is an industry-standard SLS printer produced by EOS, a manufacturer based in Germany. It is used for rapid prototyping and manufacturing end-use products. EOS P 810 is an industrial machine that can process polyetherketone-ketone (PEKK) filled with carbon fibers making it a great option for creating parts needed in intense sectors such as aerospace and electronics.
Key Features: 
700 x 380 x 380 mm (27.6 x 15 x 15 in) build volume
2.7l/h build rate & 5% packing density
Best For: For creating durable plastic parts and structures to be used in the aerospace or electronics industry.
7. Stratasys F370
Stratasys F370 is a professional-grade Fused Deposition Modeling 3D printer that delivers quality production-grade parts. It has a build envelope measuring 355 x 254 x 355 mm and supports a wide range of materials, including ABS, ASA, PC-ABS, and PC, allowing for diverse prints. The F370 has a weight size of 1,626 x 864 x 711 mm (64 x 34 x 28 in.) and weighs approximately 227 kg, making it a robust and reliable machine capable of handling demanding printing tasks. It is also equipped with toolless hot swappable print heads that allow users to swap out a nozzle in minutes while keeping the material settings intact.
Key Features: 
Heated build chamber
Uses GrabCADPrint software
Best For: Small batch production parts, prototypes, jigs, and fixtures.
9. Markforged X7
The Markforged X7 is an industrial 3D printer that uses Continuous Fiber Reinforcement (CFR) technology to create durable parts. It has a large build volume of 330mm x 270mm x 200mm and can print in a variety of materials, including Onyx, Fiberglass, Kevlar, and Carbon Fiber.
The X7 can be used to create a wide range of parts, including jigs and fixtures, tooling, components, prototypes, robotics, custom-fit parts, and end-use functional parts.
Key Features: 
330mm x 270mm x 200mm build volume
Uses Eiger software
Heated build chamber: for printing with ABS and other high-temperature materials
Filament sensor: detects when filament runs low and automatically pauses the print
Best For: Large-scale production runs with its automated build plate leveling system.
10. Markforged Metal X
Markforged Metal X uses proprietary software, Eigar, to print metal injection molding (MIM) parts with various materials such as stainless steel, copper, tool steel, and Inconel.  It is designed to work with a wide range of materials ranging from stainless steel to copper and requires no dedicated operator, no powder management system, and minimal PPE.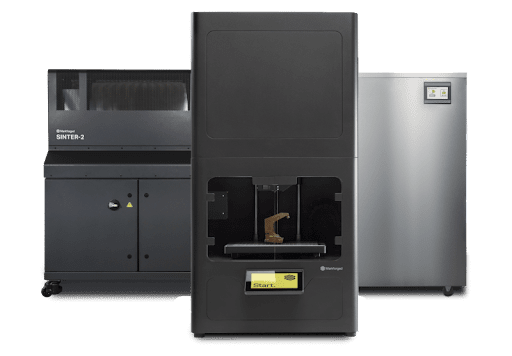 Key Features: 
Metal FFF printing process
Can support a wide range of metal materials
Build volume of 330 mm x 270 mm x 200 mm
Best For: Creating durable and corrosion-resistant metal parts.
11. HP Metal Jet
HP Metal Jet uses a proprietary Metal Jet Studio software called Dyndrite and offers high-volume metal printing. HP Metal Jet prints metal parts with stainless steel, nickel-based alloys, titanium, and other metals. The HP Metal Jet processes are similar to the binder jetting metal 3D printer. It weighs up to 851 kg. It offers 24/7 manufacturing and the option to reuse unused or loose powder left over from printing operations.
Key Features: 
Uses a proprietary Metal Jet Studio software called Dyndrite
Best For: Creating durable metal parts in short manufacturing periods.
What to Consider Before Purchasing an Industrial 3D Printer
An industrial 3D printer is an investment that determines the quality of your production operations and products. Some factors to consider when purchasing an industrial 3D printer include the following:
Throughput
A 3D printer's throughput is usually measured in terms of the amount of material that can be printed or the number of printed objects per unit of time. It is defined as the rate at which a 3D printer can produce printed objects.
Throughput varies significantly with the type of 3D printer being used, the printing settings, as well as the materials being utilized. It also depends on factors such as printer speed, the thickness of the printed layers, print quality, and the complexity of the object's design.
Throughput is an important factor to consider when choosing a 3D printer for manufacturing processes because it determines various results such as time efficiency, production capacity, and cost-effectiveness. The higher a printer's throughput, the less time it takes to meet manufacturing deadlines, achieve a larger printing volume, and save money on printing operations.
Additionally, a printer with high throughput enables greater flexibility through rapid prototyping and design refinement while making it easier to scale up on production. However, sometimes, having a printer with a high throughput may require compromising print resolution or surface quality.
Speed
Traditionally, many companies opt for faster printers to help them navigate the production of orders faster. Although faster printers mean an industry may be able to make more products more quickly, this is not always the best.
Generally, a slow 3D printer has more potential to create higher-quality designs. This is because the printer will most likely take its time scanning the CAD file and replicating every detail. On the contrary, a fast printer will create structures with less accuracy.
As a result, it is important to choose printers that make it easy to create intricate designs quickly without compromising on accuracy or quality. Nexa3D's XiP and NXE Pro series use Lubricant Sublayer Photo-curing (LSPc) technology which has a self-lubricated membrane. The self-lubricated membrane eliminates the forces between the parts being printed–enabling fast print speed without sacrificing the print quality or surface finish.
Build Volume
The build volume refers to the maximum physical size of the objects that can be printed within the printer's workspace. Here are some key points to consider regarding build volume:
Project Requirements: Assess your specific project requirements and determine the size of the objects you intend to print. Consider the largest parts or prototypes you anticipate producing and ensure that the printer's build volume can accommodate them. It's important to have a clear understanding of your needs to avoid limitations or the need for multiple prints and subsequent assembly.
Scalability: Consider your future needs and the scalability of your projects. If you foresee a potential increase in the size of objects you will be printing, it may be wise to invest in a 3D printer with a larger build volume. This will allow you to handle a wider range of projects without needing to upgrade your equipment in the near future.
Space Requirements: Ensure that you have adequate physical space to accommodate the 3D printer and its associated workspace. Industrial 3D printers with larger build volumes tend to have larger footprints. Measure the available space in your facility to verify if the printer can fit comfortably without causing any operational or safety issues.
High Resolution
A 3D printer's resolution refers to its accuracy and level of detailing when producing or printing a 3D structure. The higher the printer's resolution, the more detailed the printed structures are.
Resolution is determined by the two planar 2D dimensions (X and Y) and the Z dimension. The planar and Z dimensions are controlled through very different mechanisms which means it is important to pick a printer that performs extremely well in both dimensions.
Industrial 3D Printer Pricing
The price of the 3D printer is another factor to consider when purchasing a printer. It is important to analyze your budget and choose a printer that aligns with it. Consider the initial purchase price, necessary support services, and total cost of ownership which includes ongoing expenses such as maintenance, and what they mean for your ROI.
Choose the Best Industrial 3D Printer
With numerous industrial 3D printers available in the market today, it can be difficult for manufacturers to decide which printer suits their production needs. While every printer on our list offers high printing speed and quality operations, Nexa3D printers offer the fastest speed in the market while also offering several benefits such as large build volumes, high quality, and precision.
With Nexa3D's ultra-fast 3D printers, you can unlock a new world of better manufacturing processes.
Ready to experience it yourself?