Orthodontics Lab Boosts its 3D Printing Power
How Excel Orthodontic Lab Tripled Their Efficiency with the Ultrafast NXD 200Pro Dental 3D Printer
Excel Orthodontics is a full scale orthodontic lab near Portland, Oregon. Family owned and operated since opening in 1990, Excel is the manufacturing arm behind the scenes for hundreds of orthodontic and dental offices in the area, producing custom dental appliances ranging from invisible retainers and RPs, to flippers and hawleys – and of course dental models, which serve as the canvas for crafting most of these products.
Tyler Dowdle – whose family founded, owns, and still operates Excel – was born into the family business and is beginning to take over day-to-day operations. "We're the behind the scenes people of your orthodontist who provide them with the tools that cause, what some may say unnecessary, pain," he says with a laugh.
Challenge
From Dust to Resin
The traditional side of the orthodontic lab is a "dusty place", says Dowdle. First the dentist or orthodontist takes the impression or mold – a fairly unpleasant experience for the patient. They send that impression to the lab along with an order for the device they need, and the lab gets to work with a very manual process of casting and machining which can take a lot of time. "Taking an impression sucks. Half the time the impression is taken, it comes in, and we have to call them a day or two later and tell them that that impression is no good and they need to bring the patient back in for a new one."
By contrast, 3D printers now enable labs to convert simple intraoral 3D scans to complete printed models with high accuracy in a much shorter time and with less effort. About eight years ago, Excel brought in their first 3D printer from Stratasys to start transitioning to a digital workflow. More recently they upgraded to the Carbon M2 which allowed for faster 3D printing.
Now they're again hitting the wall with the technology and ready for an upgrade. "Carbon is a good printer but comes at a price," says Dowdle. For reference Carbon does not sell their 3D printers but rather leases them for 3 years at a minimum of $150,000 – upon which time the customer must return the hardware or start a new lease.
"With one NXD 200Pro, we're replacing two Carbon 3D printers, and in my mind we could probably even replace the third one once we optimize our process – we're still just getting started."
Tyler Dowdle, Excel Orthodontics
Customer
Excel Orthodontics, Inc.
Industry
Orthodontics Lab
Products
2 x NXD 200Pro
1 x XiP
KeyModel – Ivory
Application
Dental Models
Pontics
Splints
Advantages
2x the build volume vs existing "high speed" 3D printers
1/2 the print time vs existing "high speed" 3D printers
Better user experience for patient
Reduced workload from nightly overtime to time surplus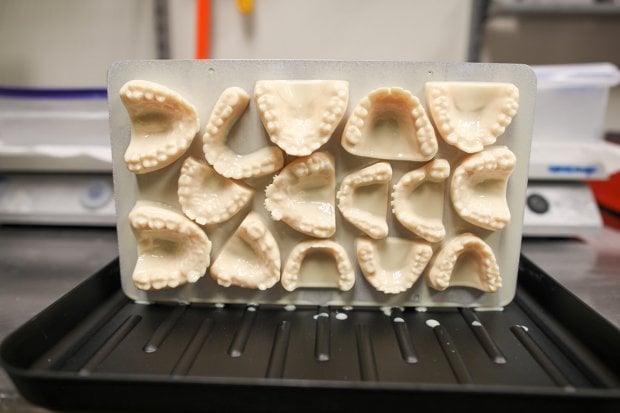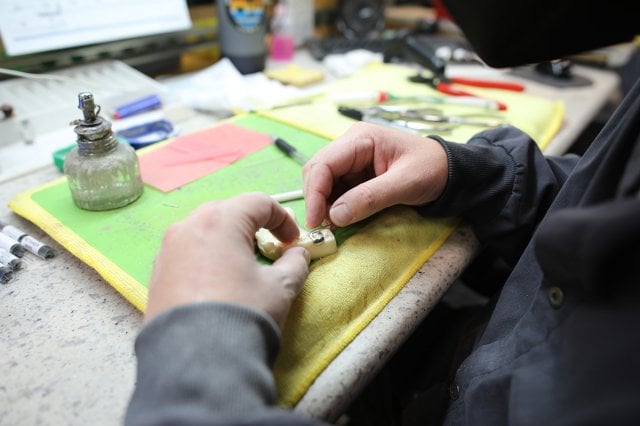 Solution
Replacing Three 3D Printers with One
Excel came upon Nexa3D via Dowdle's good friend, Matt Lennehan of Precision Dental Supply – a Nexa3D reseller. They were looking for a cost-effective solution that was more scalable and could provide better throughput than their existing setup. Nexa3D's NXD 200Pro Ultrafast 3D Printer for Dental Applications can exceed the speed of the Carbon platform thanks to its patented Lubricant Sublayer Photo-curing (LSPc®) technology. In addition to fast print speed, the LSPc delivers uniform and distortion free image to all areas of the build plate ensuring part to part uniformity and accuracy, unlike the traditional DLP process where edge to edge performance is compromised due to optical distortion.
The NXD 200Pro is also available for purchase at a third of the cost of what Excel was paying for just a three year lease with the Carbon 3D printers – giving them a significantly higher ROI in the short term but also a longer lifetime to compound that value. "Speed-wise, the M2's are just substantially slower, the build plates are smaller. I can fit up to 16 models in a build [on the NXD 200Pro] and they'll be done in an hour, whereas with an M2 you're looking at about two hours for a full eight models," says Dowdle.
In just a couple of months, Dowdle is seeing the results of the NXD 200Pro as they churn through approximately 150-200 models per day, "In our busiest season just last month, my lead technician went from working overtime everyday to hardly working eight hours in a day. Now we're getting our second NXD 200Pro and we just got the XiP desktop model also."
Dowdle smiles contemplating the newly found efficiency of LSPc technology which is what powers the new ultrafast 3D printers, "With one NXD 200Pro, we're replacing two Carbon 3D printers, and in my mind we could probably even replace the third one once we optimize our process – we're still just getting started."
A Traditional Family Business Growing with Cutting Edge Automation

Dowdle is not satisfied with the status quo – something he has learned over the years working with his father and uncle, "My goal as a businessman is to continue to grow and build out our laboratory for that growth. We've just hired five new technicians in the last month and are still looking for more. I will say, on the 3D side of things with the improved technology, I don't need as many technicians as we used to for manual pours, but we do need qualified technicians as we grow."
Speaking of finding good people, Dowdle points out another benefit of the digitization that is going on at Excel, "3D printing has made a very difficult hiring game a lot easier. Not a lot of people want to sit in the lab overnight pouring models for six hours, but the amount of people who would love to sit in front of a computer and play with the 3D software, there's a lot more people who would be willing to do that. It definitely helps in terms of appealing to the next generation."
3D printing is making waves throughout the dental and orthodontic industry, and Dowdle is quick to point out how rapidly that adoption is happening now, "20 years ago you really just had Invisalign using automated, digital processes, but they were a multi-million dollar company who could afford to invest in that. Nowadays, automation has come down to the level of a small business where people are not only willing and able to adopt it due to its affordability, but really need to adopt it to stay competitive."