Meet
Professional Resin 3D Printer
The XiP is an ultrafast desktop resin 3D printer that combines a small, compact footprint with 4.8L build volume. With an open material platform providing flexibility and easy material access, the XiP resin 3D printer is compatible with a wide range of general-purpose, functional, and elastomeric materials.
Starting at $5,999
Boost Productivity
The XiP desktop resin 3D printer is built on Lubricant Sublayer Photo-curing (LSPc) Technology, allowing users to print at blazing speeds of up to 18 cm per hour.
Open Material Platform
The XiP desktop resin 3D printer has a fully open material platform providing ultimate flexibility and access to the materials you need, when you need them.
Easily Upgradeable
XiP's modular structure is designed for frequent use. Industrial-grade components provide optimized usability, serviceability, and upgradability.
LIVE EVENT
3D Printing for Hollywood
When: June 30th, 1pm ET (10am PT)
What you will learn:
How is 3D printing used in Hollywood
How to decrease print time from days to hours (and learn how you can too!)
How printing and finishing 70+ parts in a weekend is a big deal.
How ultrafast industrial LSPc technology was brought to desktop 3D printers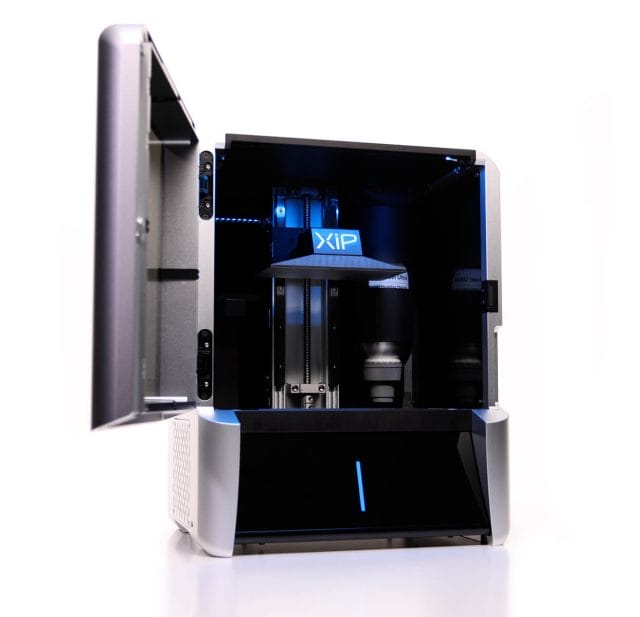 Specifications
| | |
| --- | --- |
| Build Volume | 195 mm, Y: 115 mm, Z: 210 mm (7.7 in, Y: 4.5 in, Z: 8.3 in); 4.8 Liter Print Volume |
| Layer Thickness | 50 µm / 100 µm / 200 µm; 0.002 in/ 0.004 in / 0.008 in |
| Max Resolution | 4K Monochrome 9.3" LCD |
| Pixel Size | 52 µm |
| Hardware | Billet Aluminum Enclosure; 420 mm (16.5 inch) W x 350mm (14 inch ) D x 530 mm (21 inch) H; Rigid parallel linear rails, precision Ballscrew Z-axis; Ethernet / USB / Wi-Fi connectivity; 5.5 inch Color LCD Touchscreen Display |
| Build Materials | Henkel, BASF, and Keystone combined with special in-house resins |
More Materials, More Options
Download 2022 Materials Guide for Ultrafast 3D Printing
Resin 3D Printer Comparison
XiP vs. Form 3+
Are you thinking about getting a professional resin 3D printer that can print high resolution parts? When it comes to print quality, resin 3D printers reign supreme. But quality means nothing without speed and throughput. That's why we've put together a quick comparison of two of the most interesting professional desktop 3D printers available today—the Nexa3D XiP and the Formlabs Form 3+.
"[What I like about the XiP] is that it uses a low-force 3D printing process (LSPc) which means you can use support structures/touchpoints that are either smaller or significantly reduced in number compared to other desktop SLA systems. This means that post-processing time is significantly reduced"
– Paul Cilino, Mechanical Design Engineer and Owner at MotoCilino, LLC
Designed and Built with Sustainability in Mind
The design and manufacturing of the XiP desktop resin 3D printer takes into consideration the entire life cycle of the printer. With recyclable packaging and part choices, including an easily recyclable all-aluminum body, this modular desktop 3D printer easily accommodates upgrades over time.
A Resin 3D Printer That's Unlike Any Other
With its open material access, industrial functionality and durability, the XiP is a best-in-class desktop resin 3D printer that is easy to self-service and upgrade, given its modular design. Users can create consistent, high-quality parts and prototypes with reliability and repeatability.
EverCare Service Plan
Enhanced services and support designed to help you achieve the highest level of printing success on the XiP including dedicated teams, training, and printer hot-swap.
EverCare Plan
Download NexaX Basic
NexaX generates part-by-part fully customizable support structures, and has features to hollow parts and create internal lattice structures.
Download NexaX
Open Material Platform
Our growing network of the world's leading material providers—including Henkel, BASF, and Keystone—unlock potential in a variety of applications for various industries.
Material Selector