60-DAY MONEY BACK GUARANTEE
Try XiP for 60 Days – Risk Free
We are confident the XiP will meet or exceed your performance expectations—so confident that we're offering a 60-day money back guarantee. Simply complete 3 steps below to give XiP a try for 60 days. If you are not happy with its performance we will issue you a full refund for the printer.
Ready to supercharge your desktop 3D printing throughput?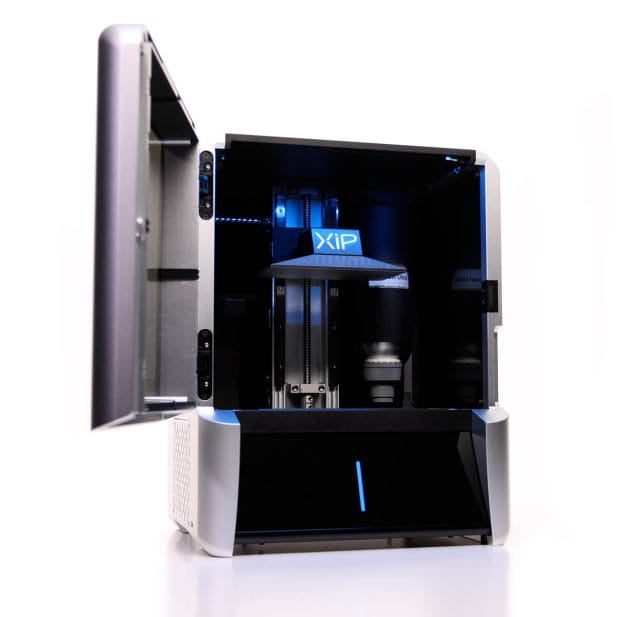 Industrial Strength. Desktop Size.
The XiP is a desktop resin 3D printer that combines a small footprint with a large 4.8L build volume. With its ultrafast speed and an open material platform providing flexibility and easy material access, we are confident that the XiP is a best in class desktop mSLA printer. And we think you'll agree.
"[What I like about the XiP] is that it uses a low-force 3D printing process (LSPc) which means you can use support structures/touchpoints that are either smaller or significantly reduced in number compared to other desktop SLA systems. This means that post-processing time is significantly reduced"
– Paul Cilino, Mechanical Design Engineer and Owner at MotoCilino, LLC
Not satisfied? Return XiP Within 60 Days for a Full Refund*
The XiP is an ultrafast desktop resin 3D printer that combines a small, compact footprint with 4.8L build volume. With an open material platform providing flexibility and easy material access, the XiP mSLA 3D printer is compatible with a range of general-purpose and elastomeric materials.
Here's how to be eligible for a return:
Order through our sales team (use the form to get started!)
Sign the money-back guarantee agreement at the time of purchase
Attend one (1) live EverCare onboarding training within 30 days of receipt
Print at least 3 times
*This offer is valid upon a qualifying purchase and mutual acceptance of the 60-Day Money Back Guarantee agreement and is only available for purchases in US and Canada. A qualifying purchase includes up to 2 XiP printers, at least one each of Wash+Cure, Resin Vat, and EverCare Service plan, and be used for an application within the design guidelines of the XiP using the Nexa3D branded resins. To be eligible for the refund certain required activities must be accomplished by the customer. For full terms and conditions, please contact a Nexa3D sales representative.