When it comes to resin 3D printers that fit on your desktop, there are essentially three technologies: Stereolithography (SLA), Digital Light Processing (DLP), and the newest – Masked Stereolithography (mSLA). While the first two are probably the most well known, the third – mSLA – is one that is making waves thanks to a combination of print quality, ease of use, and speed.
To assist you, we have compiled a list of ten factors to consider when purchasing a resin 3D printer.
1. 3D Printing Quality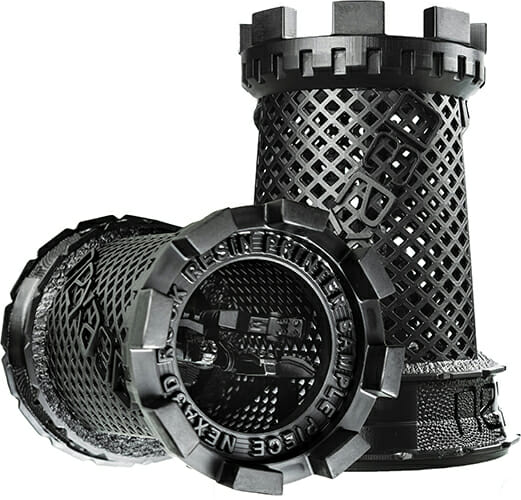 This is the most important consideration when purchasing a resin 3D printer. Although most professional resin 3D printers provide good print quality, you cannot simply purchase any resin printer. Unlike DLP 3D printers which suffer from image warping due to the projection angles (think of the edges of a projection TV), mSLA 3D printers project light in a uniform array across the entire build—resulting in improved dimensional accuracy.
While hobbyist resin 3D printers do this well, professional resin 3D printers like XiP from Nexa3D have additional features such as columnar lens arrays that focus the light for increased precision. Another unique feature on XiP is an anchored z-axis which reduces wobble—something common amongst resin desktop 3D printers.
2. Build Volume
All resin 3D printers have the ability to print multiple parts on a single build tray. In desktop 3D printers, build volume has historically been limited due to two factors—peel force and thermal management. These two limiters have the potential to make print jobs much slower as they get very large. That said, with a more professional resin 3D printer such as the Nexa3D XiP solutions have been engineered to minimize the slowing effects to achieve high speed with a very respectable build volume. These are proprietary features that trickle down from industrial 3D printing technology.
3. Print Speed
It's important to note that print speeds vary drastically depending on the resin 3D printing process. mSLA 3D printers project a UV light source through an LCD panel, which means that regardless of how many parts are in the tray, the entire layer of all the parts on the tray are printed in one pass for all parts. This inherently makes mSLA a top choice when it comes to speed. That said, not all mSLA 3D printers are the same. The same proprietary tech that allows for larger build volume in the previous section also helps Nexa3D achieve unparalleled speeds. That technology is called Lubricated Sublayer Photo-curing or LSPc™.
To put this into perspective, a single part would take 5x and 6x longer to print on SLA compared to a Nexa3D mSLA 3D printer (LSPc technology), but ten of those parts would take 14x and 48x longer to print on SLA and FDM respectively. But it's also 3-4x faster than other mSLA 3D printers!
4. Software Compatibility
While there are a number of open source software platforms that enable the masses of hobbyist resin 3D printers, they tend to require in-depth knowledge to dial in parameters for your specific 3D printer. On the other hand, professional 3D printers such as the XiP from Nexa3D offers its own specific software platforms (NexaX in the case XiP). These often provide for easier setup and overall printing since they are designed to work together natively and often provide additional features and functionality such as native remote connectivity and monitoring.
5. Operational Costs
Consumables for resin 3D printing can be numerous. Consumables, electricity, and labor are considerations for overall operational costs and can determine whether your 3D printer is actually saving you money or not. When you factor in the cost of the resin tank, build plate, vat film, and LCD panels, gloves, isopropyl alcohol, etc., the cost quickly adds up.
Resin 3D printers tend to offer lower cost modeling materials (such as Nexa3D xModel15) as well as higher cost engineering materials (such as Nexa3D xPEEK) for specialized uses. Choosing the right one for your project will ensure you maximize your ROI.
Electricity use for desktop 3D printers is typically fairly low, but for industrial 3D printers and can actually be worth reviewing. A major benefit of 3D printers is that the majority of the process is automated and requires minimal labor – compared to say machining.
6. Applications
An alignment fixture from Ashley Furniture (left) and a car seat bracket (right) printed in engineering resins
mSLA 3D printers have a high resolution, resulting in parts with a smooth surface finish. This allows them to work in a broader range of industries such as dentistry, automotive, medical, jewelry, and manufacturing. The only separation occurs in terms of applications. Some 3D printers are only used for prototyping, others for specific applications, and only a few are capable of printing industrial-quality parts.
While historically resin 3D printers have been limited to delicate prototypes, the advancements of resins with durability, heat resistance, flexibility, rigidity, and other properties have opened the door to applications such as jigs and fixtures as well as end use production parts.
7. Availability of Resins
A thriving material ecosystem exists for all resin 3D printing technologies. There are numerous resin materials available to suit your specific purpose or application. Users can print with flexible, dental, biocompatible, high-temperature, tough, jewelry, engineering, general purpose, and other resins.
All top brands developing resin 3D printing technologies also have their own materials ecosystem. For example, Nexa3D also provides a wide variety of resins for its mSLA 3D printer to meet performance requirements, such as PP-Like, ABS-Like, and engineering-grade functional materials. There are also specialty materials designed specifically for the manufacture of high-temperature components.
Nexa3D is one of the companies that supports an open materials program. Its open materials platform allows users to use proprietary materials developed and validated by partners or third-party manufacturers, as well as materials developed and validated by users themselves.
8. Maintenance Costs
mSLA 3D printers have fewer moving parts than other styles of 3D printers (FDM, SLA, DLP). Only the Z-axis moves, and for this reason it is less likely for things to go wrong. Professional mSLA 3D printers like XiP have a further anchored Z-stage which reduces vibration that can deteriorate the 3D printer's parts. The LED mask is also a consumable that will need to be replaced over time, but thanks to the commonality of 4K displays, that price is kept to a minimum. One further consumable specific to XiP is the Everlast 2 Membrane which enables ultrafast 3D printing, but this membrane lasts 50x longer than other competitors on the market and again, the cost is minimal.
9. Price
mSLA 3D printers are classified into three types based on their price: hobbyist, professional, and industrial. The price will obviously indicate the printer's class as well as the quality you can expect. If you wish to buy a 3D printer then you should compare two printers from the same category and then weigh their pros and cons.
For simplification, Hobbyist class 3D printers cost less than $1000, Professional class printers cost between $3,000 and $10,000, and Industrial class printers cost more than $50,000+.
A professional mSLA 3D printer like Nexa3D's XiP desktop 3D printer, starts at $5999.
10. 3D Printing Experience
When purchasing a 3D printer, most buyers consider factors such as printing speed and finished part quality. The overall 3D printing experience is an often overlooked feature.
mSLA 3D printers deliver a reliable and high quality 3D printing experience and Nexa3D's XiP desktop 3D printer is a great example. This printer boasts a faster turnaround time and a large 4.8L build volume with little mess.
Because of its speed, the XiP is ideal for makerspaces and educational institutions. Users can avoid long, backed-up queues by turning over prints quickly in a shared workspace. The simple vat enables students and makers with varying print needs to quickly switch between resin types without mess, extra time, or waste.
Conclusion
Hopefully now you can make an informed purchasing decision now that you have read about 10 factors to consider when purchasing a mSLA 3D printer. It is important to note that all printers and brands have different offerings, so even if you are familiar with the printers, you should connect with the companies to get first-hand information on the printer.