Latest posts by Madeline Hogan
(see all)
As the 3D printing industry evolves, the demand for large 3D printers has surged. Large 3D printers are invaluable for projects that require substantial build volumes, providing a blend of detail and scale that smaller machines can't match. From the automotive and aerospace sectors to architecture and construction, large 3D printers are becoming an industry staple, streamlining production and offering unparalleled flexibility.
This article will review some of the best large 3D printers on the market, with build volumes reaching over 1000x1000x1000 mm.
What are Large 3D Printers?
Large 3D printers are 3D printers that possess a significantly larger build volume compared to standard or desktop 3D printers. This larger build volume allows users to print bigger parts or multiple smaller parts in a single print session.
Large-Volume vs. Large-Format vs. Large-Bed 3D Printers
Large-volume 3D printers specifically reference the total cubic space within which a printer can produce. This means there's an emphasis on all three dimensions: width, depth, and height.
Large-format 3D printers are used in ambitious printing processes that require meter-tall prototypes. They are designed for printing oversized creations with substantial width and height.
Lastly, large-bed 3D printers are printers designed with a spacious print bed area. It enables the production of large structures that need a wide base for stability.
The Best Large 3D Printers
With the vast array of large-sized, industrial 3D printers available in the market today, it can be challenging to determine which is the best option for your manufacturing needs. To help, we've curated a list of the best large 3D printers suitable for your commercial needs.
1. Nexa3D QLS 820
Build Volume: 350 x 350 x 400 mm
Nexa3D's QLS 820 thermoplastic 3D printer is a quad-laser printer that offers unmatched production capabilities. The QLS 820 is designed with automation and scalability in mind and produces up to 4x the throughput of traditional laser sintering 3D printers and other polymer powder bed technologies. The QLS 820 is the industry's fastest selective laser sintering (SLS) 3D printer and can print up to 8 liters per hour at 20% job density.
Nexa3D QLS 820 is trusted by many reputable manufacturers for their production needs. The drone manufacturing company, SmartDrone, used the QLS 820 to scale up its production throughput. SmartDrone gained a 60% faster build speed, 2x the packing density, larger build volume, hot-swappable build units, and more.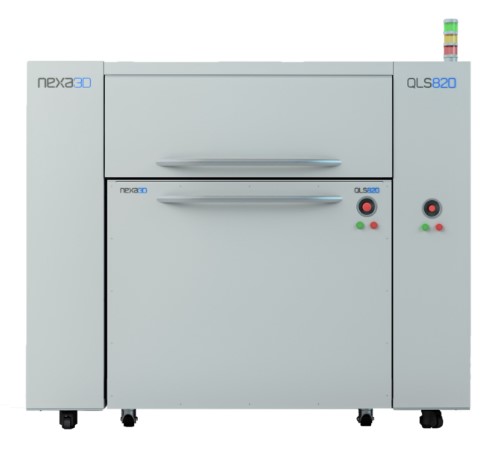 Pros: 
High throughput (4x the throughput of traditional SLS printers)
Open-source platform that allows for the printing of many materials, including PA12, PA11, and
Polypropylene, as well as aluminum, glass, and fiber-filled options.
Smart automation & advanced fleet management software
Incredible speed, end-to-end traceability, centralized printer management, and real-time data monitoring
Cons: 
Best for very large print volumes, so it may not be an ideal fit for smaller budgets
2. Nexa3D QLS 230
Build Volume: 230 x 230 x 230mm
The QLS 230 is one of the most affordable industrial SLS 3D printers in the market today. Its single 30-watt CO2 laser produces prototypes with robust mechanical and thermal properties without requiring a lengthy cooling period. In fact, it can print a full build and completely cool down in a single 24-hour cycle.
The QLS 230 is extremely versatile, with an open platform system that works with 10+ qualified nylon and metal materials. It also excels with recycled powders from HP and EOS, reducing waste and increasing sustainability in manufacturing processes.
The QLS 230 has the lowest entry point in the professional selective laser sintering market and lower operating costs due to its powder refresh rate of just 20% and the use of third-party materials.  It's also compatible with cold metal fusion, being able to produce titanium and steel parts.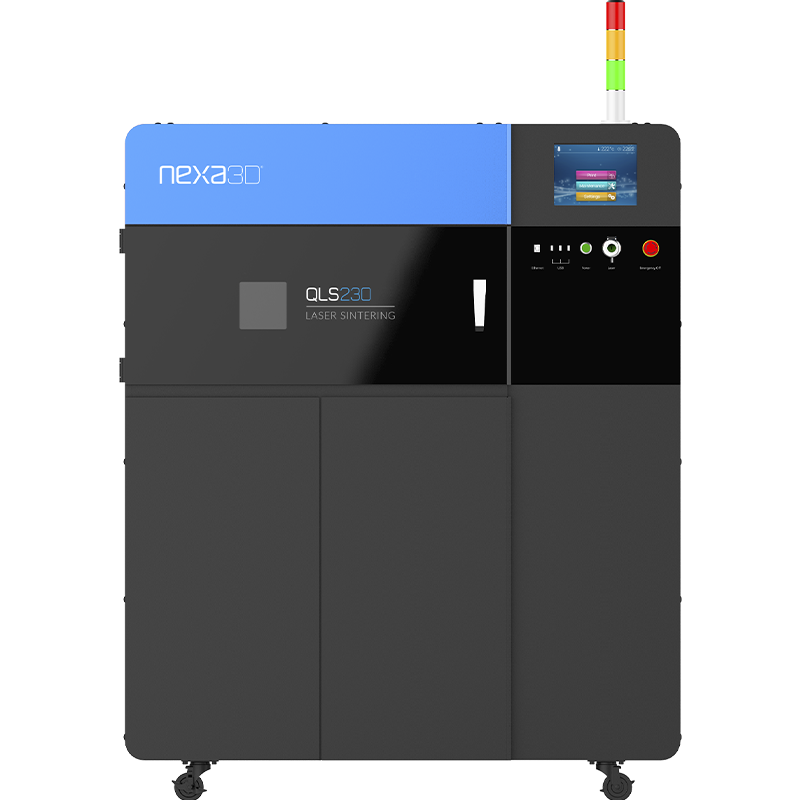 Pros: 
Lowest cost of entry and low operating costs
20% powder refresh rate
Compatible with 10+ qualified nylon and metal materials
Up to 20mm per hour build speed
Utilizes recycled powder from HP and EOS and others
Cons:
Has a smaller build volume compared to the QLS 820
3. Nexa3D QLS 236
Build Volume: 230 x 230 x 250 mm
QLS 236 is an industry-leading SLS 3D printer with an unrivaled 21-hour cycle time. It uses a single 60-watt CO2 laser to produce prototypes and production parts with robust mechanical and thermal properties.
The QLS 236 is most notable for its material flexibility with an open platform that works with 16+ materials, including a range of Polyamides, PP, PBT, and TPU. Other than these approved materials, the QLS 236 printer is also compatible with patented metal powders from headmade materials® and recycled powders from manufacturers like HP and EOS.
The QLS236 printer has one of the lowest entry points in the professional SLS market. Combined with lower operating costs due to its powder refresh rate of just 20% and use of third-party materials, the QLS 236 offers the lowest total cost of ownership for your industrial SLS 3D printing needs.
Pros: 
Powered by two advanced intuitive software suites, Buildware, and XYZprint AMsLs
One of the lowest costs of entry in the SLS printer market
Cold metal fusion compatible
Open material platform and material versatility (including a range of Polyamides, PP, PBT, TPU, as well as the patented metal powders from headmade materials®)
Cons: 
4. XiP Pro

Build Volume: 19.5 L, with build dimensions of 292 x 163 x 410 mm
The XiP Pro is the world's fastest resin 3D printer that delivers a high production throughput at the lowest cost of operation. It offers the largest build volume and fastest print speed in its class, providing unrivaled productivity that allows you to manufacture functional prototypes and production parts at previously unattainable economics.
The Xip Pro printer functions with a state-of-the-art LCD-based VAT photopolymerization process using Nexa3D's patented mSLA Lubricant Sublayer Photocuring (LSPc) technology to deliver high accuracy, excellent dimensional stability, and unrivaled surface quality. With an open platform and superb material flexibility, it offers a broad range of high-performance manufacturing materials, ranging from strong and durable 3D printer resins including xABS, xPP, and xCE to elastomeric materials, like xFLEX475 and xFLEX405.
Pros: 
Intuitive NexaX Software & Smart Resin Delivery System
Environmental Monitoring System
Large industrial capacity and compact footprint
19.5L build volume & 10″ High-Resolution LCD Touchscreen
Cons: 
The XiP Pro is aimed at professional users, not 3D printing hobbyists since it requires a certain level of technical training
5. Modix BIG-180X
Build Volume: 1,800 x 600 x 600 mm
Modix BIG-180X is a 3D Fused Deposition Modeling (FDM) printer introduced in late 2019. The printer is similar to BIG-60 and was designed for heavy-duty use. Modix BIG-180X also has a printer dimension of 2,630 x 1,060 x 1,573 mm alongside a sturdy frame, dual extruders, and compatibility with various materials.
Pros: 
Contains Duet3D Wifi 32 bit controller & Duex5 Expansion board
Decent material compatibility
Printer dimensions: 2,630 x 1,060 x 1,573 mm
Cons: 
Requires ample space for setup
Very high price point
It's a filament-based print technology so surface detail and aesthetics may not be ideal depending on your application
6. Big Rep Pro
Build Volume: 1020 x  970 x 985 mm
Big Rep Pro is a large-format printer designed to produce full-scale, large parts, including functional prototypes, factory tooling, patterns and molds, and end-use parts. The printer has an expansive build volume and advanced features, making it suitable for use in large-scale industrial applications.
Pros: 
Supported by its Precision Motions Portal
Works with multiple materials
Has various safety certifications
Cons:
Cooling parts is time-intensive
Risk of deformities in prints
It's a filament-based print technology so surface detail and aesthetics may not be ideal depending on your application
7. Raise3D Pro3 Plus 3D Printer
Build Volume: 300 x 300 x 605 mm
Raise3D's Pro3 Plus 3D printer is a professional extruder printer with an intuitive user interface and a large build volume for large-scale production and multi-sized rapid prototyping. The Pro3 Plus is equipped with an independent modular extruder that allows it to print a variety of materials such as nylon, glass fiber, carbon fiber, metal, and wood.
Pros: 
Auto bed leveling and automatic pausing with door/lid sensors
Flexible build plate
Airflow management
Cons: 
Narrow door opening
Limited customer service
Unintuitive printing workflow
It's a filament-based print technology so surface detail and aesthetics may not be ideal depending on your application
8. 3D Systems Ext 1070 Titan Pellet
Build Volume: 1070  x 1070  x 1219 mm
Created by 3D Systems, the Ext 1070 Titan Pellet 3D printer is a high-speed, large-format printer used for the production of molds, tooling, jigs, fixtures, end-use parts, and full-scale prototypes. It utilizes pellet-based material, allowing for large-scale printing. The printer is used by industries such as automotive, aerospace and defense, consumer products, and more.
Pros: 
Multi-material capability
Large build volume and short production time
Cons: 
Steep learning curve
High price point
Large space requirement
9. Stratasys F900
Build Volume: 914 x 610 x 914 mm
The Stratasys F900 printer is a manufacturing-grade 3D printer that prints a wide array of engineering-grade materials while offering maximum throughput. It uses FDM to create strong, functional parts from various high-performance materials, including high-performance thermoplastics.
Pros: 
User-friendly interface and advanced controls
Robust 3D printer software for slicing and managing printing
Soluble support materials
Cons: 
Works primarily with proprietary Stratasys materials and software
Limited compatibility with third-party materials and software
Very expensive
Printer's size and complexity might require dedicated setup and maintenance expertise.
10. Stratasys Neo 800
Build Volume:  800 × 800 × 600 mm
The Stratasys Neo 800 is an advanced SLA 3D printer with scalable production capabilities. The printer features a large build volume and an open system that is compatible with all commercially available 355nm SL resins. It can help builders create durable prototypes, parts, and functional end-use products.
Pros: 
Large build volume for accommodating sizable objects
Compatibility with various materials
Capable of producing intricate prototypes and functional parts
Cons: 
Expensive
Advanced features may require a learning curve for new users
Maintenance and support costs could be substantial
More About Large 3D Printers
What is the largest size you can 3D print?
When it comes to large-scale 3D printers used in manufacturing, these machines can print sizes over one square meter.
However, the largest 3D structure ever printed was completed by the University of Maine's Advanced Structures and Composites Center. US Senator Collins made this statement about the project: "In 2019, UMaine unveiled the world's largest 3D-printed object — a 25-foot patrol boat. Today, we celebrated the creation of 3D-printed vessels that will be more than twice as large and represent the next remarkable leap in innovation by UMaine."
What is the biggest 3D printing machine?
The biggest 3D machine is the University of Maine's special project. It has a 100-foot bed and can extrude filament at a rate of 500 pounds an hour.
How much do large-volume 3D printers cost?
Large-volume, industrial 3D printers cost at least $10,000 and can be upward of $1,000,000. 3D printing costs vary due to a variety of factors: the 3D printing technology, the build volume they offer, the materials they're designed to use, brand reputation, and any additional features and capabilities.
Read more: How Much Does a 3D Printer Cost?
Use the Best Large 3D Printer
Choosing the right large 3D printer can significantly impact the quality and efficiency of your projects. Whether you're operating with SLA, FDM, or other technologies, having the best 3D printer at your disposal opens the door to creating impressive, intricate designs and prototypes.
For manufacturers looking for 3D printers to provide large-scale production and cutting-edge solutions, Nexa3D's range of industrial printers is an exceptional choice. Providing a blend of speed, precision, and innovation, Nexa3D empowers creators across various industries to create sophisticated products and bring their visions to life on a larger scale.
Nexa3D offers unprecedented printing speed and unmatched efficiency. With technological solutions to explore unparalleled creativity and production capability, Nexa3D brings innovation to reality.
Are you ready to explore it yourself?